Located about a 2.5-hour flight north of Perth, Broome and the Dampier Peninsula offer visitors unique opportunities to connect with traditional owners, giving the opportunity to immerse in rich history, tradition, and culture in stunning landscapes. In collaboration with Tourism Western Australia, Goway joined several Aboriginal-owned and -operated tours in this region where red earth beautifully meets a crystal-blue ocean.
Rosanna Angus, from Oolin Sunday Island Cultural Tours, is one of the locals who has showcased not only the beauty and richness of the landscapes but also the culture, history, and millennia-old Aboriginal traditions of the Broome region and the Dampier Peninsula. This dynamic Jawi woman was recognized as an innovative leader in the tourism industry and was named Australia's Top Tour Guide in September at the "Australian Top Tourism Town Awards", presented by the Australian Tourism Industry Council and supported by Tourism Australia and Qantas. "Rosanna has made a significant contribution to the public's understanding of Aboriginal culture through her guiding, alongside work supporting and inspiring Aboriginal women in her local community," Tourism Council Western Australia CEO Evan Hall said.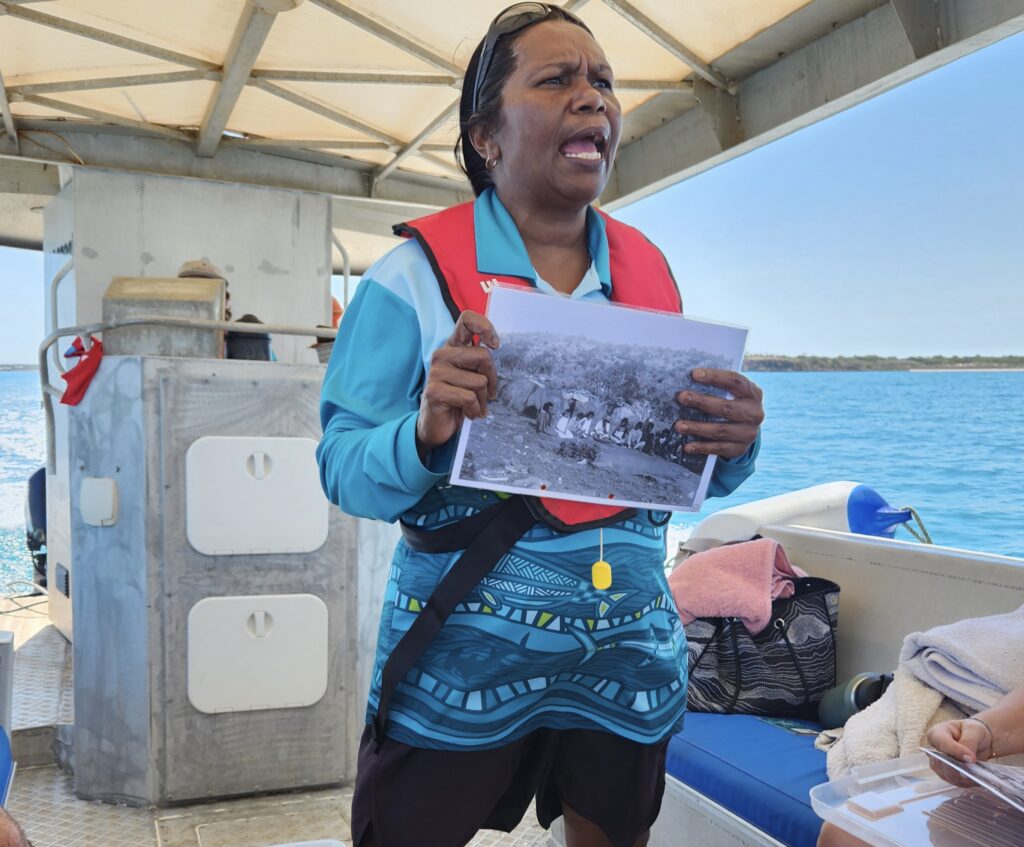 The Journey of the Tide Drifters
"This is a journey that began thousands of years ago through what is today known as the Pearl Passage, a journey through the turbulent waters, whirlpools and eddies between Jooloom and Jayirru", shares Rosanna Angus, whose family resided on Sunday Island during the early mission days. The tour starts by boat from Cygnet Bay Pearl Farm, allowing participants to experience the force of some of the world's largest tidal waters and to understand how the Jawi people harnessed these massive tidal currents for hunting, fishing, and trade.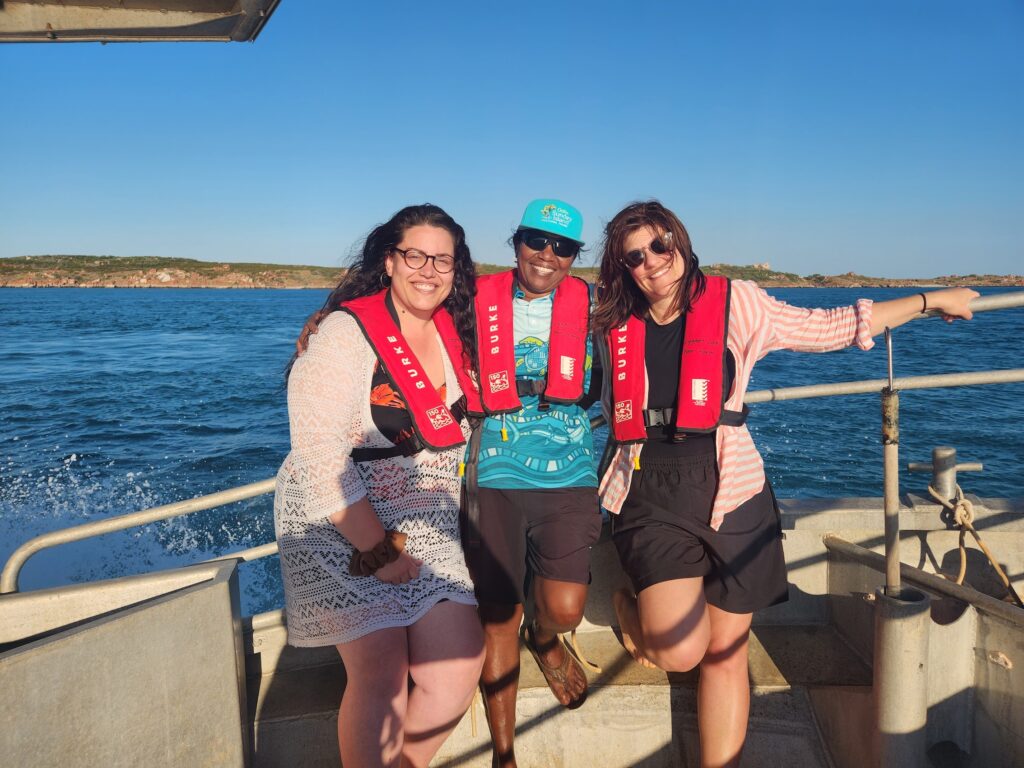 The journey continues with Rosanna by exploring serene, pristine locations and delving into the cultural and environmental importance of a breathtaking marine reserve. Teeming with wildlife, the protected Buccaneer Archipelago and King Sound serve as nurseries for humpback whale calves and three dolphin species. "We also took a halt at an untouched beach where we had the opportunity to swim and taste Rosie's renowned Damper," recounts Josh Akel, Product Manager at Goway who experienced the tour with Tahlia and Renee (Rez) of Tourism Western Australia. "On our return, we witnessed whirlpools formed by the shifting tides and even saw a few whales breach!"
The Kimberley Marine Park also shelters dugongs, manta rays, sea turtles, hammerhead and tiger sharks, as well as numerous migratory birds and territorial birds of prey. Encompassing an area over 74,000 square kilometres it includes some of Australia's most remote and pristine coastline.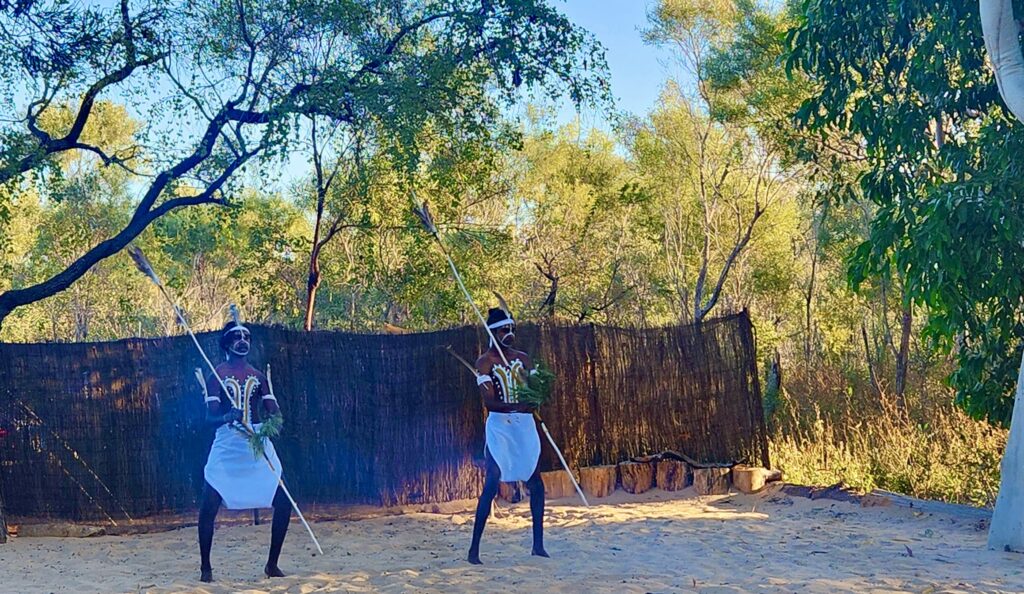 Mabu Buru Tours
Mabu Buru Tours is another Aboriginal Cultural Experience that offers a connection with the world's oldest living culture. Under the shimmering velvet skies, guests can immerse themselves in ancient traditions, tales, and customs, deepening their understanding of the land's spiritual essence.
This Aboriginal Tourism venture provides an Indigenous perspective on the landscapes in and around Broome, introducing guests to the time-honored cultural practices of the West Kimberley region. Johani Mamid, a proud Karrajarri, Bardi, Nyul Nyul, and Yawuru man who grew up in Broome, guides visitors on a deeply personal journey that delves into Aboriginal culture through the lens of the land, nature, history, lore, and traditional wisdom. It's an opportunity to uncover the treasures hidden in plain sight throughout Broome and its neighboring landscapes, savor seasonal fruits, encounter local fauna, and listen to ancient creation stories and traditional songs. "They offer a Cultural Gathering Experience, The Wakaj Experience, which delves into the history, traditional lifestyles, and the concept of dreamtime, all while sitting around a campfire and enjoying freshly made bush Damper," shares Josh from Goway, who experienced this tour during the famil organized by Tourism Western Australia.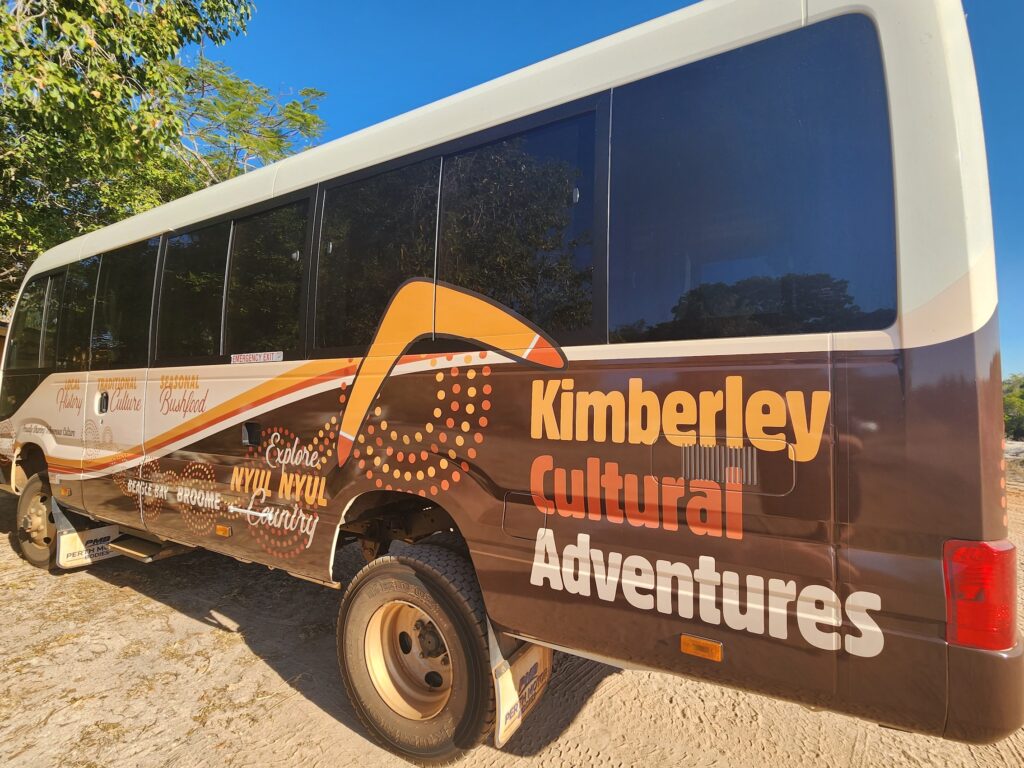 Kimberley Cultural Adventures
Robert Dann, from Kimberley Cultural Adventures, offers a 3-hour cultural experience, sharing a slice of 40,000 years of Broome and Kimberley culture. Featured in the "Broome cultural tour" is a journey through various locations in air-conditioned comfort, stopping and exploring the history of the town from the perspective of both the ancient and continuous connection of the area's first people through to European settlement. Along the way, there's opportunities to sample local bush foods and gain insights into traditional bush medicine, then enjoy some of Robbie's very own refreshing brand of Boab Ginger Beer and Iced Tea and a private didgeridoo performance. It's a chance to journey back in time, listening to tales of Broome during the early pearling days. " Guests explore forgotten roads and historic landmarks and hear the local stories connected to them," Robert Dann adds.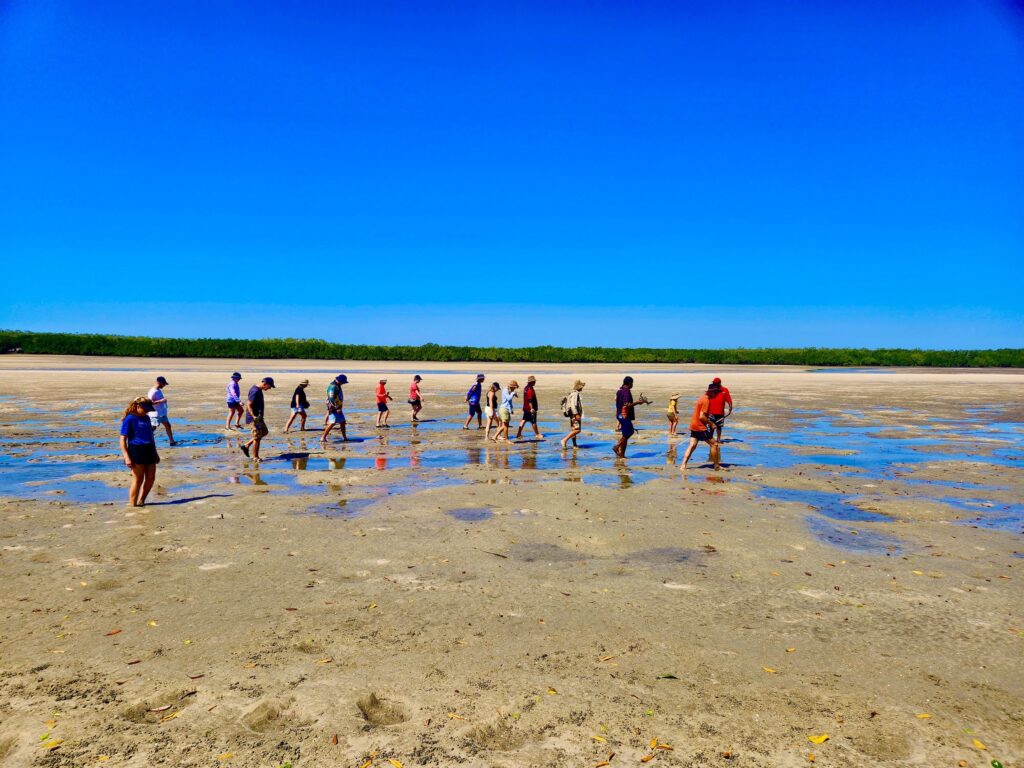 Southern Cross Cultural Tour at Lullumb
Over the past few years, Bardi-Jawi man Bolo Angus has dedicated himself to building a business - Southern Cross Cultural Tour at Lullumb - that takes travelers along the breathtaking coastline of the Dampier Peninsula at Lullumb, revealing the pristine coastal territory of his ancestors. Through this venture, visitors get now an authentic glimpse into life on Bardi land - from song and dance to foraging and hunting for food. "Operated by Bolo, Southern Cross Cultural offers tag-along tours," Josh explained. "Travelers are required to join with their own 4WD on the Dampier Peninsula. They take you on a few walks in different locations, tell stories of their ancestors and hunt for mud crabs and sea snails, cooked later over an open fire. It gave guests the chance to taste this traditional food while listening songs in native language".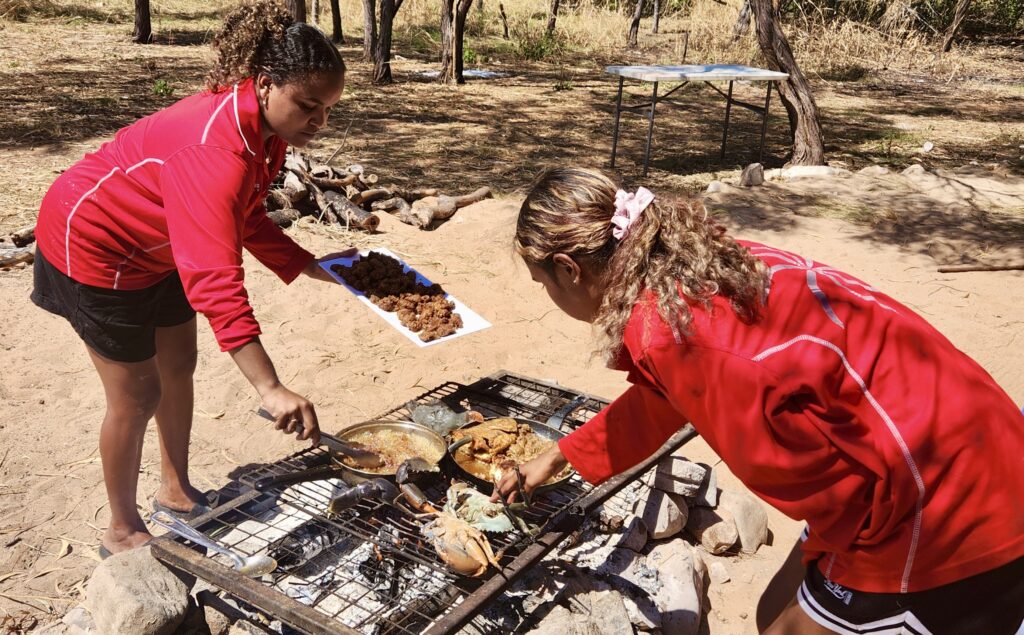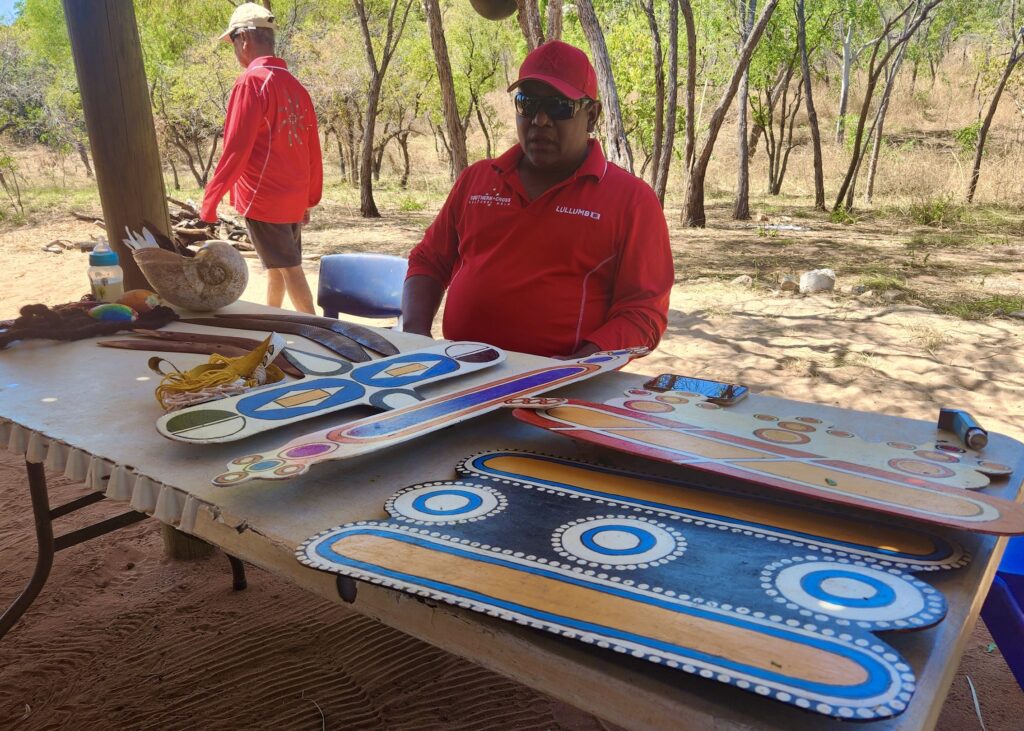 Practical information
1/ Rosanna Angus - Oolin Sunday Island Cultural Tours` / Follow the Journey of the Tide Drifters
Duration : 4.5 hours
Location : Tour departure point is from Cygnet Bay Pearl Farm, located 200km north of Broome on the tip of the Dampier Peninsula. The Cape Leveque Road is now completely sealed, however the driveway is unsealed and approximately 3km long, and is now suitable for 2WD day access.
More Information : The tour is not age limited, the boat has a shade, it's safe to move around and offers a toilet onboard if required.
What to bring : Sunnies, hat, sunscreen, towels, swimmers, medications, and snacks.
2/ Johani Mamid - Mabu Buru Tours / Wakaj Experience
Duration : 2.5 hours (approximately)
Tour Time : 15:30-18:00
Departure : Wakaj runs every Thursday afternoon
Transportation : Complimentary pickup and drop off to your allocated accommodation included
Location : The Wakaj Experience is held 15km out of Broome (on the Broome Highway), just before the Malcolm Douglas Crocodile Park.
This tour is loaded in Goway system
3/ Robbie Dann - Kimberley Cultural Adventures / Beagle Bay and Broome tours
Duration : 3 hours
Departure Time : Between 7am and 8am
Transportation : Tours depart from the Broome Visitor Centre - pickup and drop off to your allocated accommodation could be also included
4/ Bolo Angus - Southern Cross Cultural Tour at Lullumb
Duration : The South­ern Cross Cul­tur­al Walk is approx­i­mate­ly 3 hours
Location : Meet Bolo Angus with your own 4WD on the Dampier Peninsula