Nominated by Australian suppliers and in competition with almost 150 other inbound companies, Goway Travel was named "Buyer of the Year" during the closing ceremony of "Meeting Place 2023" held in Adelaide from November 1st to 3rd. Meet Kathy Turner, General Manager at Goway Travel in Sydney.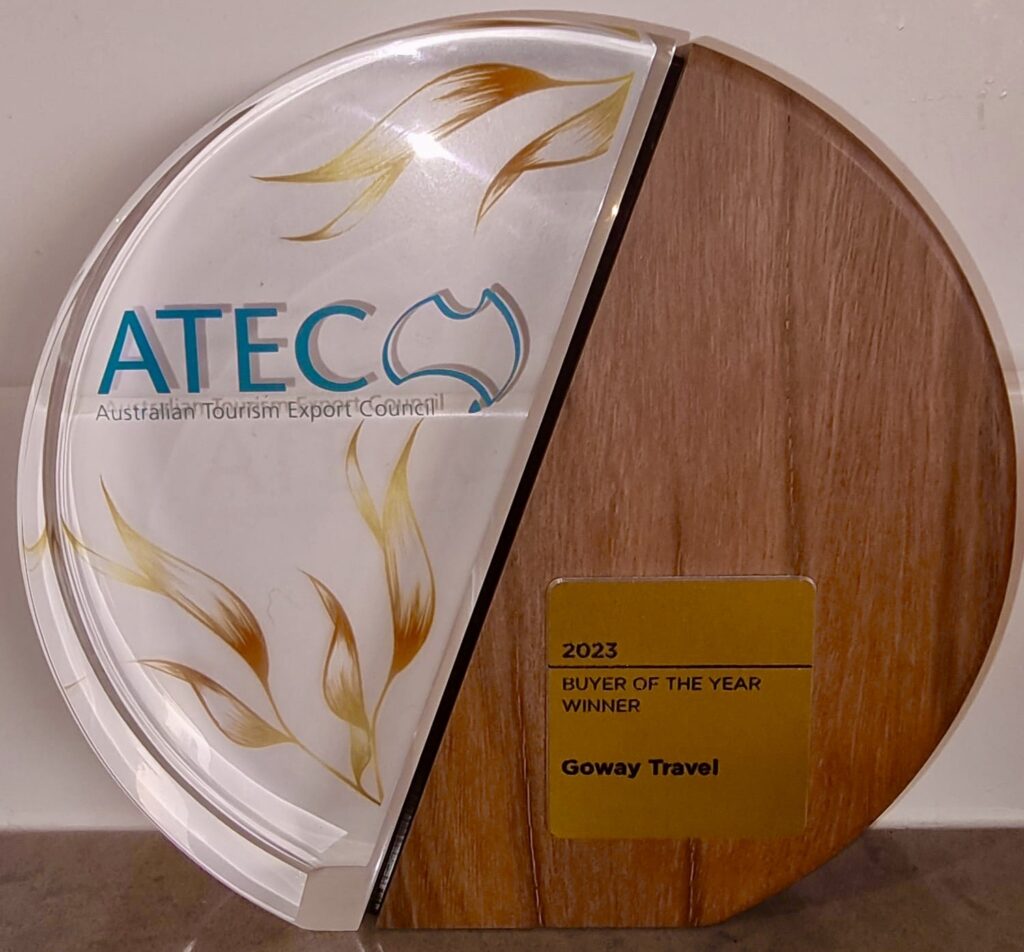 Q1 - Goway has been recognized as the best Inbound Tour Operator in Australia by the Australian Tourism Export Council (ATEC), receiving the 'Buyer of the Year' Award during the travel event 'Meeting Place' held in Adelaide. Can you share what this award means to you and the Goway team?
Kathy Turner - This is an incredible honour, and in my opinion, the best award we could possibly receive. This award is not based on a fancy submission to a panel of judges. This is 100% based on the votes from our valued supplier partners all around Australia. The hotels, the tour operators, the transfer companies… every person who goes into making up our passenger itineraries and providing them with exceptional experiences in Australia. For them to have chosen us as their favourite Inbound Tour Operator is deeply humbling.
Behind this award, there's an entire team being rewarded, as it belongs to every single member of the Goway team. From the Sales team generating the business, to the Reservations teams, Operations through to Accounts, each and every person communicates in some way with our suppliers around Australia. The award recognizes the professionalism and respectfulness of my team as they conduct their daily work. It's a privilege to lead this outstanding group of people, and to accept the award on their behalf.
Q2 - Could you tell us about some of the innovative strategies that have contributed to Goway's success?
Kathy Turner - We invest heavily in two key elements of our business: our people and our technology. Staff well-being, work-life balance, and engagement are very important to us. We have a very successful remote-working policy and an innovative approach to recruitment. We seek out the best talent all around Australia and even around the globe, and if they are the right people for us, we hire them wherever they are.
We also prioritize technology, investing in connectivity with suppliers and clients and looking for technology solutions wherever we can, having recently rolled out a number of projects from automated confirmations through to invoice scanning.
We also represent three brands: Goway, Across (for the French-speaking markets), and Pacific Destinations (dedicated to New Zealand).
Q3 - How does the 'Meeting Place' event align with Goway's business goals and vision?
Kathy Turner - Meeting Place is a perfect opportunity for us to maintain and strengthen our relationships with our supplier partners, learn what's new in the marketplace, and discover new products and suppliers to present to our overseas clients. It's a very important event on our annual calendar.
Q4 - Looking forward, how does Goway plan to maintain its leading position within the industry?
Kathy Turner - We have a strong focus on team development and growth in every aspect from product and destination knowledge through to leadership and personal growth. This will ensure we remain a market leader in our expertise, and also in our ability to attract and retain the very best of the best in our team.
Q5 -Can you tell us about any upcoming trends in inbound tourism that Goway is particularly excited about?
Kathy Turner - There is a trend towards smaller group sizes and also private touring, so it's great to see products developing to meet that need. I'm also excited about the return to large-scale Incentive events with businesses around the world now feeling more confident about the future and starting to plan their exciting incentives with Australia finally returning to the spotlight.
Q6 - What role do you see Goway playing in the recovery and growth of the Australian tourism sector post-pandemic?
Kathy Turner - Goway is able to provide top-quality service and turnaround time to the agents offshore, which gives them greater confidence to really sell and promote Australia to their networks and their passengers. Many of them have lost experienced staff over the pandemic, so their knowledge of our destination is weaker than it was, meaning they rely heavily on the expertise of our team members to give them the confidence to quote and sell our complex destination.
Q7 - How does Goway ensure that it offers unique and memorable experiences to your travel agencies and tour operators clients?
Kathy Turner - We pride ourselves on staying informed on the new experiences through our great relationships with State and Regional Tourism Offices and regular attendance at training sessions to ensure we are informed of what's exciting all around the country. We work with some of the most unique and out-of-the-way small operators in the country, even if they are sometimes a "challenge" to work with commercially. If they provide an incredible experience to the guests, that's what's most important to us.
We also have arguably Australia's most passionate Outback Explorer and Tour Guide at our fingertips in the inimitable Sebastien Cros… nobody on the planet can match the exclusive experience that he can offer on an excursion into the "True Australia" to live like a local in the beautiful red desert!
Q8 - Finally, what message would you like to give to both your industry partners and clients after receiving this prestigious award?
Kathy Turner - To our clients around the world, thank you for trusting us with your customers, for staying with us through the tough times, and for walking this journey with us as we all move past the recovery and into the existing growth of the future! To our industry partners who voted for us to win this award, THANK YOU! It is a pleasure working with you all, and we love sending our clients to meet you.
A special thanks also to ATEC for running this award.