Explore one of Australia's most iconic lifestyle destinations with spectacular beaches, lush rainforests, and a charming beachside town, located 770 kilometers north of Sydney and 165 kilometers south of Brisbane.
** Watch also our video showcasing the natural beauty of Byron Bay (Video by Xavier Cicero) ** - Click here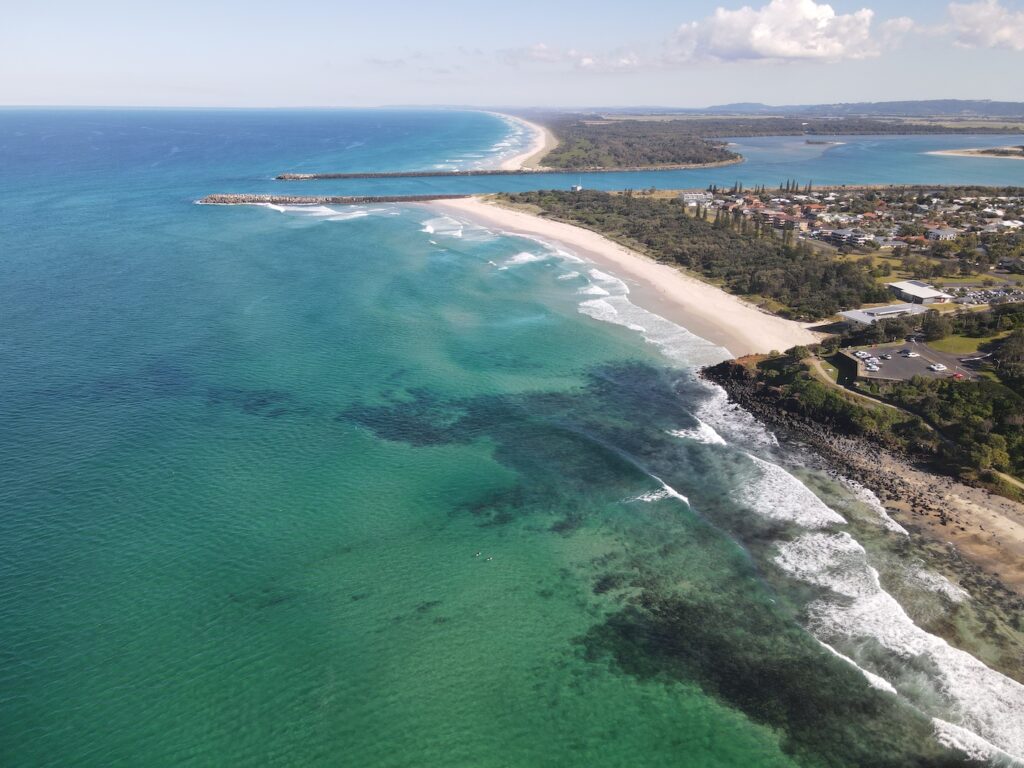 Byron Bay is a pleasant small beach town of about 10,000 people where tourists blend with locals often drawn to a nature and relax lifestyle. It exudes a bohemian atmosphere that attracts backpackers as well as rich and famous Australian like Nicole Kidman.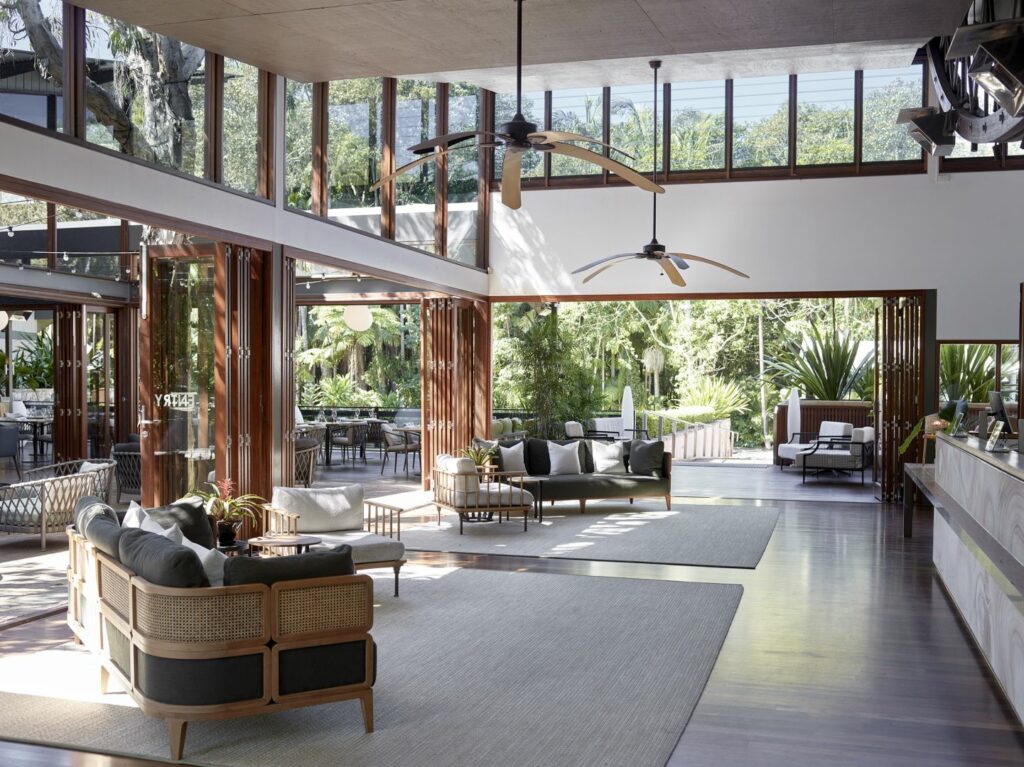 Among Goway's suggestions for relaxing in a chill and natural setting: Crystalbrook Byron, a five-minute drive from Byron Bay. Nestled in 45-acres of magical subtropical rainforest, this responsible luxury accommodation collection of 92 suites partners with EarthCheck as part of an ongoing commitment to creating a more sustainable tourism. Let's walk through the tall glass doors into the lobby to reach a large swimming pool surrounded by rainforest, or to the day spa and infrared sauna, or further up to the long and beautiful Tallows Beach.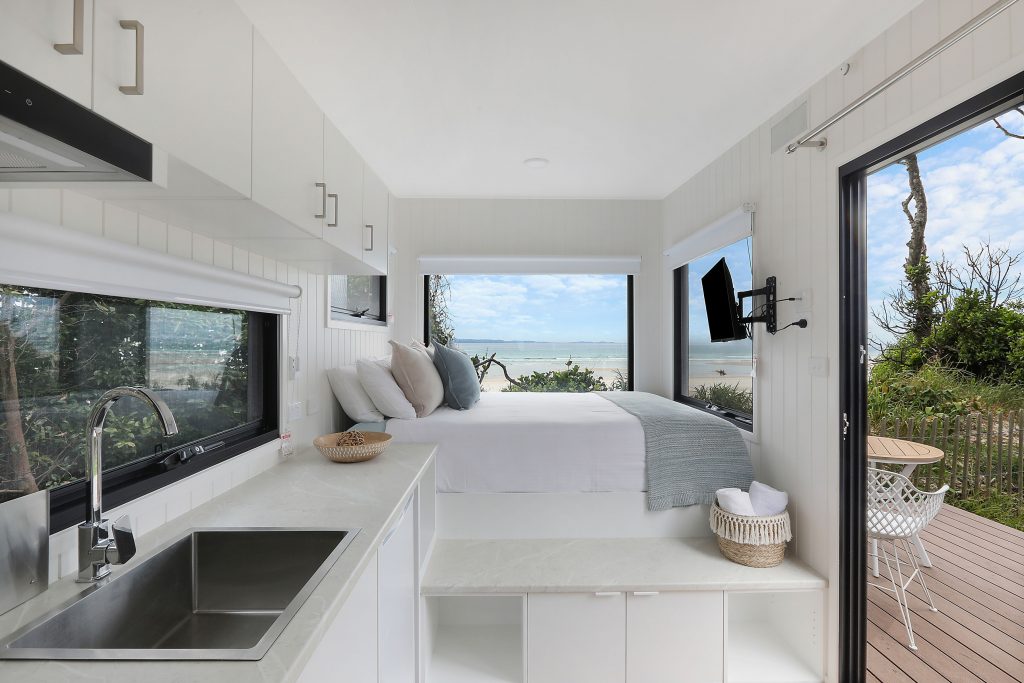 Among the other eco-friendly accommodation options, travelers can try the chic tiny houses of Reflections Holiday Parks, located opposite Clarkes Beach in Byron Bay, designed with a significantly reduced carbon footprint, harmoniously integrating into the surrounding environment. They feature a fully equipped space boasting a light-filled lounge area, a kitchenette with amenities such as a microwave oven, cooktop, and dishwasher, and a modern ensuite that leads into a cozy bedroom equipped with either a double or a queen bed.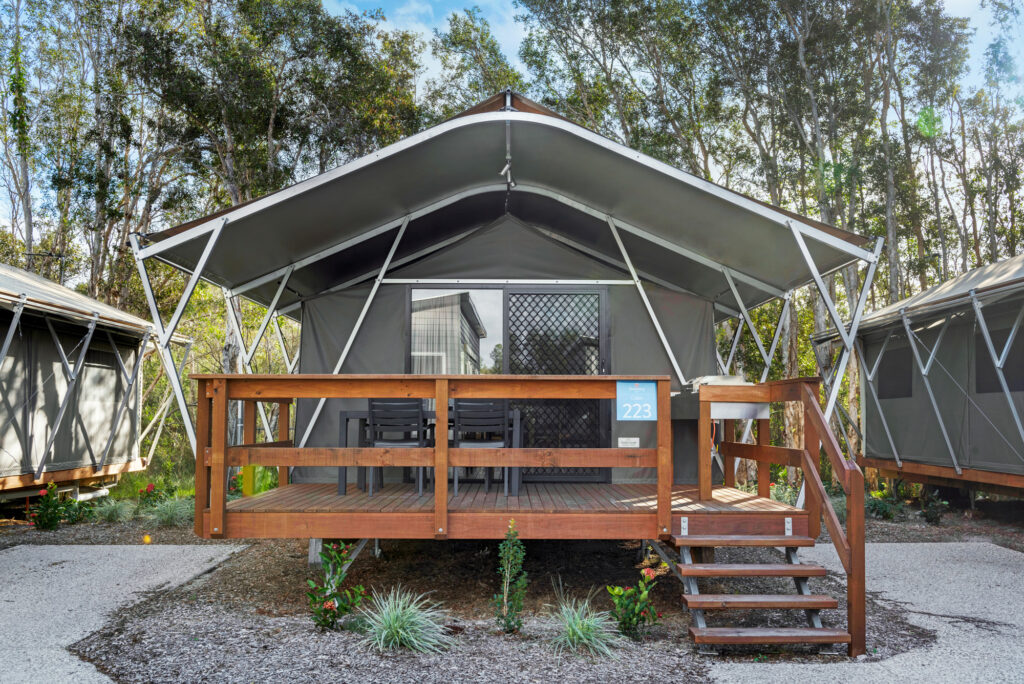 Just two kilometers from Byron Bay, Discovery Parks - Byron Bay also offers a choice of nice cabins and Deluxe Safari tents.
Beaches and Rainforest
The beaches are plentiful around Byron Bay. You can swim almost all year round, with water temperatures in this subtropical region only dropping below 20°C in winter, from June to September. Byron Bay Beach, Main Beach, pleasantly extends the shopping streets of the small seaside town. While it can be tempting to spend all your days sunbathing or swimming in the sparkling turquoise waters, there's also plenty of exploring to do around.
A 3.5-kilometer trail also allows you to reach Cape Byron via the Cape Byron Walking Track, skirting beautiful cliffs. Dolphins are often spotted here, and sometimes even Humpback Whales traveling north up the east coast for their breeding and birthing grounds from September to November. Its lighthouse, built in 1880, is considered one of the most powerful in the southern hemisphere.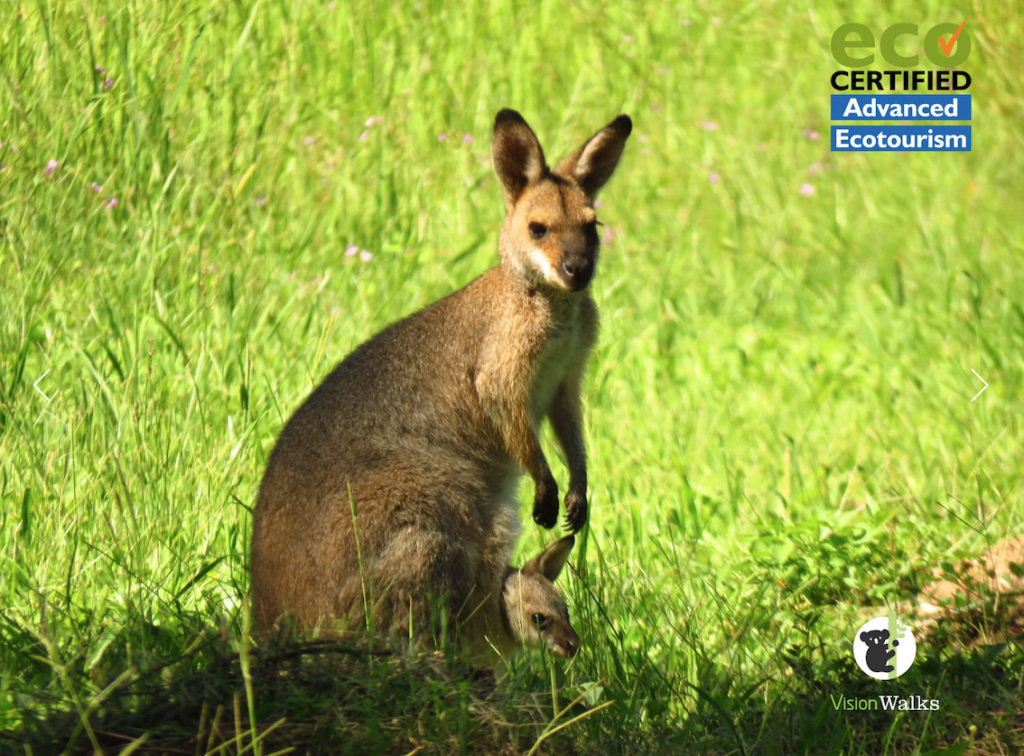 From swimming to strolling along the beaches or in forests, the region offers numerous nature activities. Among Goway's suggestions: Vision Walks, which focus on nature, wildlife, and Aboriginal tradition with local guides who have backgrounds in environmental science and/or local indigenous culture (The Byron Bay region is located on unceded land of the Bundjalung Nation of the Arakwal, Minjungbal, and the Widjabul people who have lived by the coast for at least 22,000 years). Vision Walks Wildlife Safari takes you to three different habitats near Byron Bay: eucalyptus forest, rainforest, and grassland to discover the animals that live there. The Nocturnal eco tours are also popular, providing night vision goggles to spot wildlife in the rainforest like possums, pademelons, bandicoots, tawny frogmouths, leaf-tailed geckos, fuscipes, melomys, microbats, and frogs.
If you are in Byron on a Thursday morning, you can also head to the Butler Street Reserve and take a stroll around the Byron Bay Farmers' Market to enjoy its friendly laid-back vibe and its colorful fruits, delicious organic vegetables, avocados, coffee, local honey, edible flowers, and freshly baked bread. There are also other Byron Bay markets throughout the week in New Brighton (Tuesday), Murwillumbah (Wednesday), Mullumbimby (Friday), and Bangalow (Saturday).
Photos : Xavier Cicero / Crystalbrook Byron / Discovery Parks - Byron Bay / Vision Walks
Access to Byron Bay: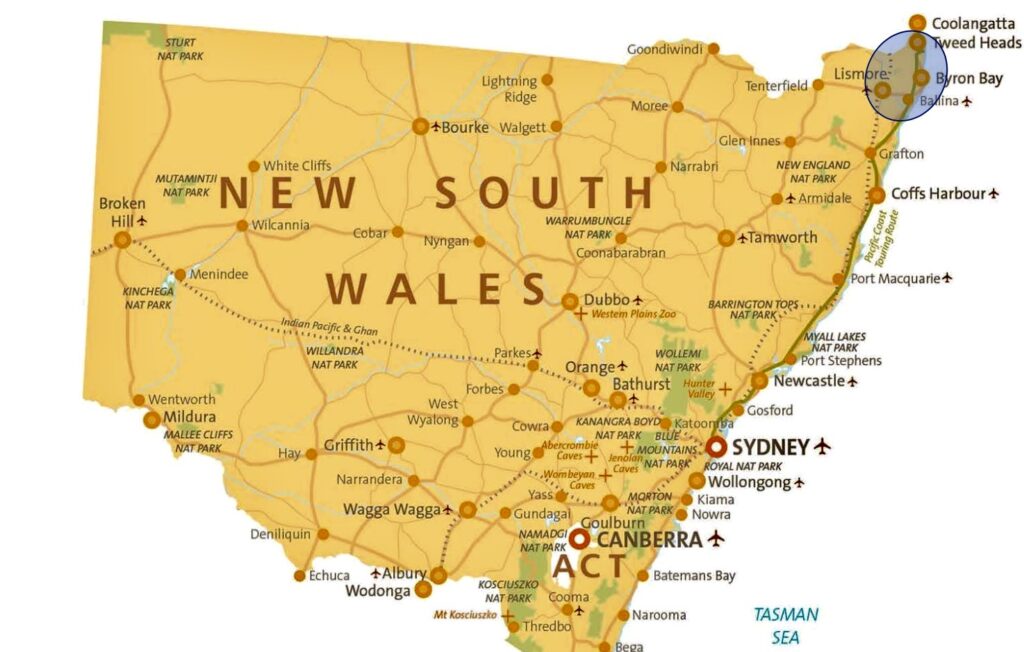 Ballina Byron Gateway Airport (airport code BNK), 30-minute drive south
Gold Coast Airport (OOL), 45 minutes north
Brisbane Airport (BNE), 1 hour and 50 minutes from Byron Bay
Or from Sydney, a 9-hour drive along the 'Legendary Pacific Coast'.
The Legendary Pacific Coast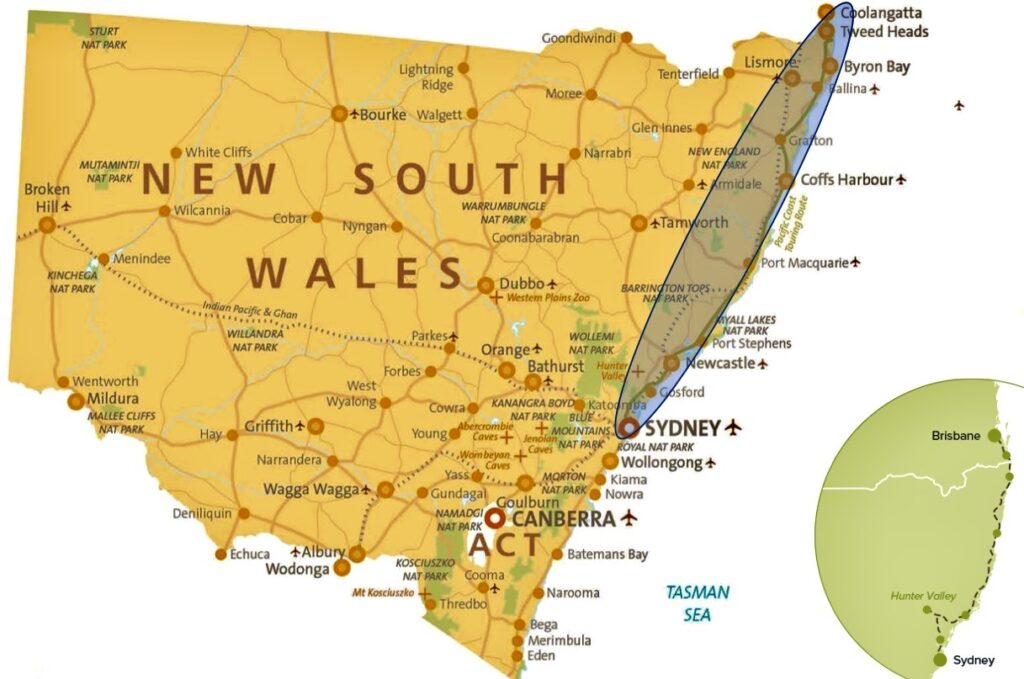 A popular and accessible self-drive tour from Sydney to Brisbane
930km of coastal road between Sydney and Byron Bay
Feasible all year round with signage throughout the journey.