Enhance your clients' travel experience with Goway along the breathtaking East Coast of Queensland, featuring beautiful lodges and retreats while embracing sustainable practices – a growing demand among travelers! Explore a handpicked itinerary of eco-friendly accommodations from the Sunshine Coast up to Daintree in Far North Queensland, taking nothing but memories and leaving nothing but footprints.
This sustainable travel itinerary in South-East Queensland is a must for travelers seeking authentic experiences, within a magnificent setting, where respect for the environment meets the discovery of an extraordinary tropical region.
In a world where eco-friendly getaways are sought after, our friends at Pinnacle Tourism Marketing have curated a remarkable itinerary of handpicked accommodations that echo the call for sustainable living.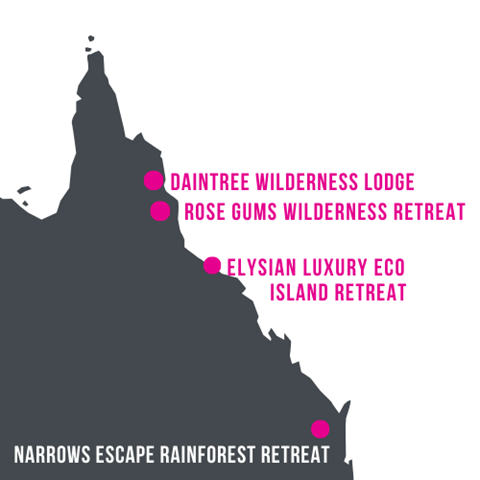 Narrows Escape Rainforest Retreat - Sunshine Coast
About 90 kilometers north of Brisbane, on the Sunshine Coast and on the edge of Kondalilla National Park, Narrows Escape is a boutique rainforest retreat. It features lavishly appointed, self-contained villas, each boasting private plunge pools, nestled within pristine rainforest. The 8 villas are strategically placed to showcase the natural beauty of the lush sub-tropical rainforest in private luxury. Sustainability initiatives include wastewater recycling, rainwater harvesting, energy-efficient lighting, and on-demand gas hot water. Narrows Escape incorporates the use of biodegradable cleaning products and composting to minimize environmental impact. By sourcing food produce locally and supporting wildlife preservation, the retreat establishes an eco-friendly sanctuary amidst the beauty of nature.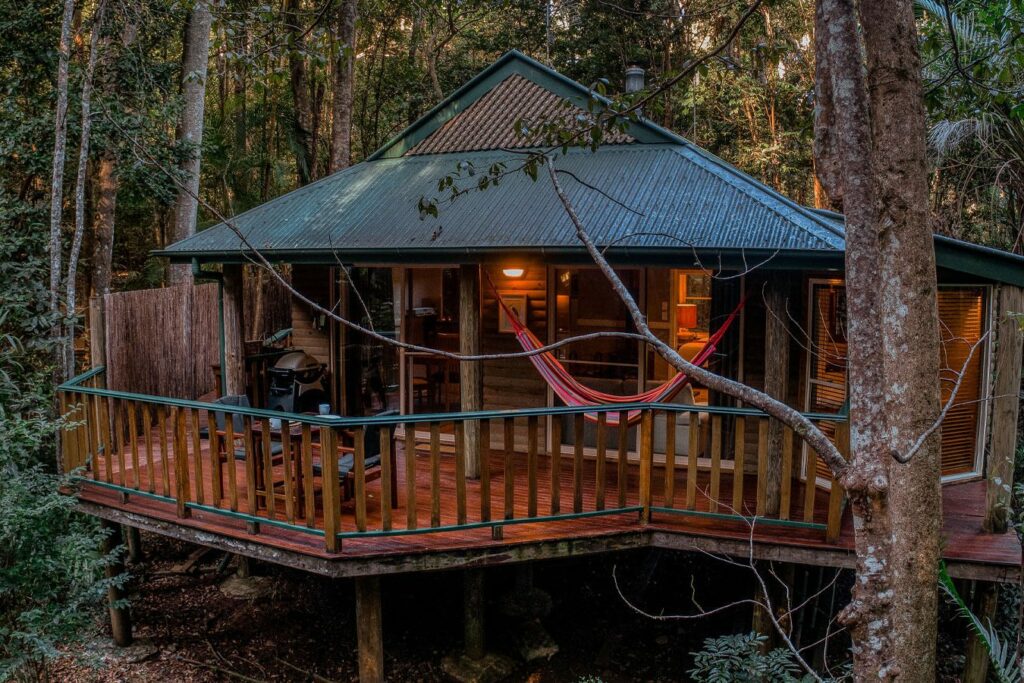 Narrows Escape is also conveniently located at the starting point of Queensland's treasured Great Walk, a route that connects a wonderland of national parks and is home to more than 300 species of birds. Note that this family-owned and operated hotel was named one of "the most romantic stays in the world" by TripAdvisor in 2021 !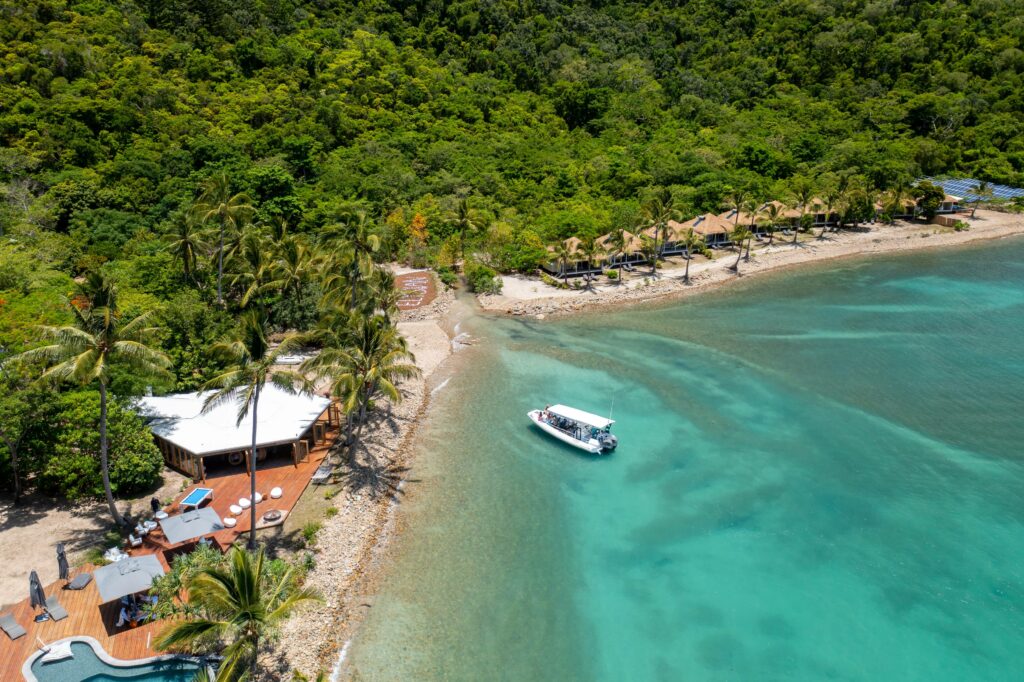 Elysian LuxuryEco Island Retreat - Whitsundays
Nestled in the Whitsundays on the southern tip of Long Island, and surrounded by a dense national park, lush rainforest, and the turquoise waters of the Great Barrier Reef, lies another remarkable sustainable accommodation: Elysian Retreat. This haven of barefoot luxury and indulgence operates with a small, personable team that passionately delivers 5-star service, proving that luxury "does not have to be sacrificed in the pursuit of sustainability".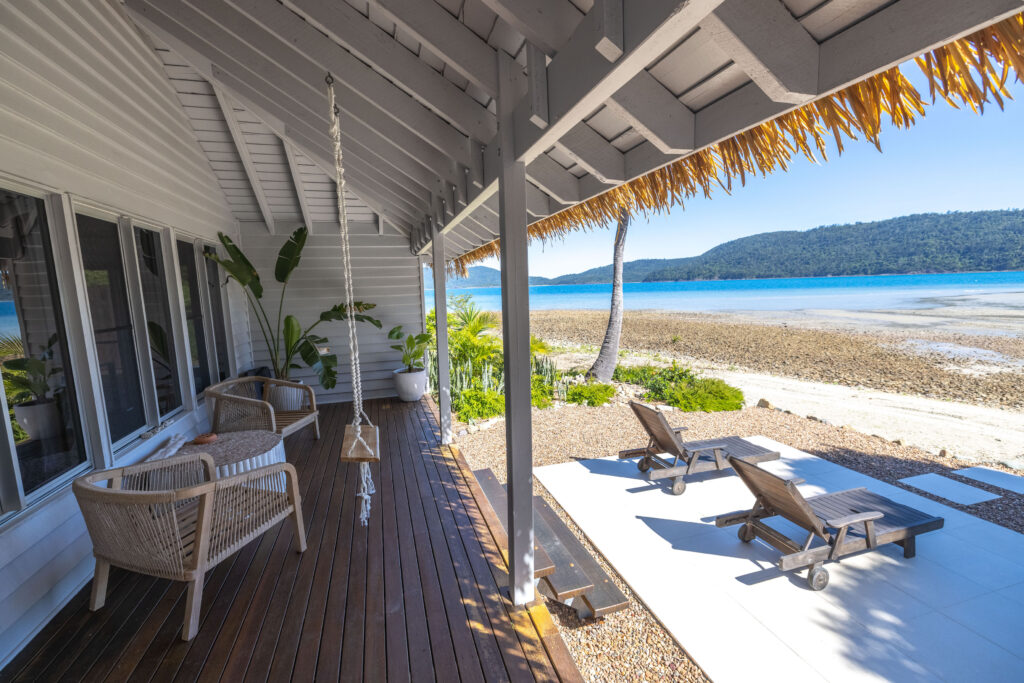 Elysian Retreat is the first 100% solar-powered island resort on the Great Barrier Reef. Certified by the Ecotourism Program, the resort consistently demonstrates its commitment to both environmental and social sustainability, adopting practices such as operating a zero-waste kitchen, worm composting, offering organic refillable bathroom amenities, and using biodegradable cleaning products. By operating with minimal environmental impact, Elysian effectively conserves water, power, fuel, and reduces emissions, implementing special measures to safeguard the health of the reef.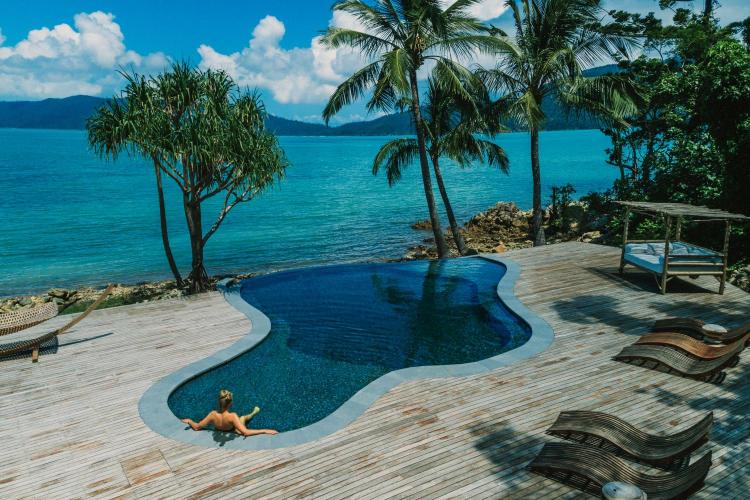 Guests staying in one of the 10 oceanfront island villas can look forward to three gourmet meals daily, complemented by pre-dinner canapés, inclusive of all beverages (though alcohol is charged separately), unlimited use of water sports equipment, daily yoga sessions, and access to a rejuvenating magnesium pool. Located in a secluded bay, Elysian is approximately 14km from Hamilton Island Airport and 20km from Airlie Beach on the Whitsunday coast. Most guests make their way here via a 15-minute helicopter ride from these locations, making it a perfect getaway for couples (note: the resort is restricted to individuals aged 16 and above).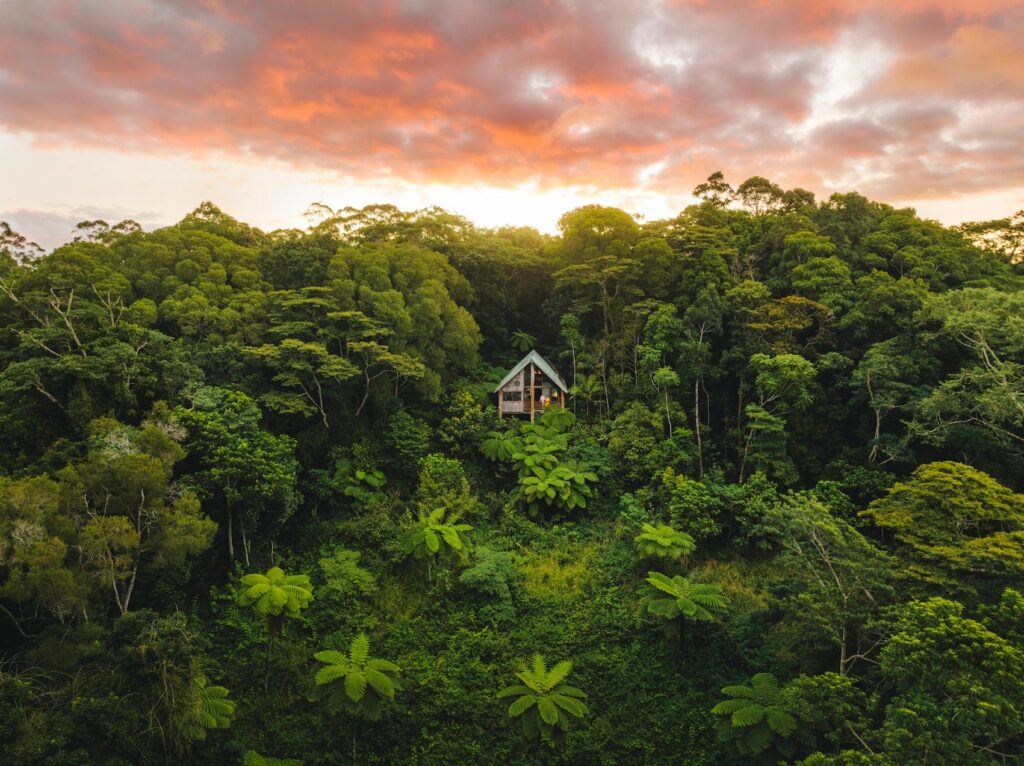 Rose Gums Wilderness Retreat - Atherton Tablelands
Located near Malanda, approximately 75 kilometers southwest of Cairns in the Tablelands region, Rose Gums Wilderness Retreat is another prime choice for an exceptional nature experience. Its luxury private pole and timber treehouses are nestled within 90 hectares of private North Queensland rainforest, which shelters 160 species of birds, colorful parrots, small kangaroos, and even platypus in pristine rainforest creeks.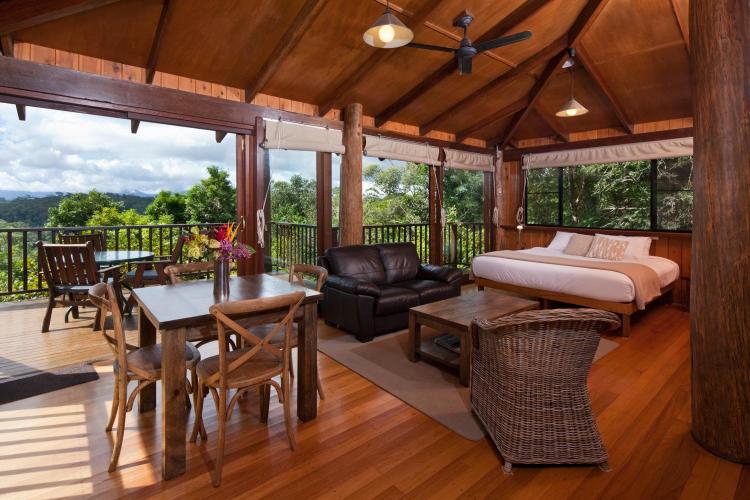 These accommodations, featuring spa-baths and fireplaces, are also just about thirty kilometers west of the World Heritage listed Wooroonooran National Park, located in the foothills of Mt Bartle Frere, Queensland's highest mountain. This eco-tourist accredited retreat, endowed with its own rainforest streams, a waterfall, and bush walks, serves as an ideal getaway for both couples and families.
Since its inception, Rose Gums has been dedicated to reforestation efforts, planting over 25,000 mixed native trees and has been recognized as a Nature Refuge by The Queensland Government Environmental Protection Agency. Committed to sustainability, the retreat employs eco-friendly electricity practices and harvests water from underground sources, supplying clean spring water throughout the year.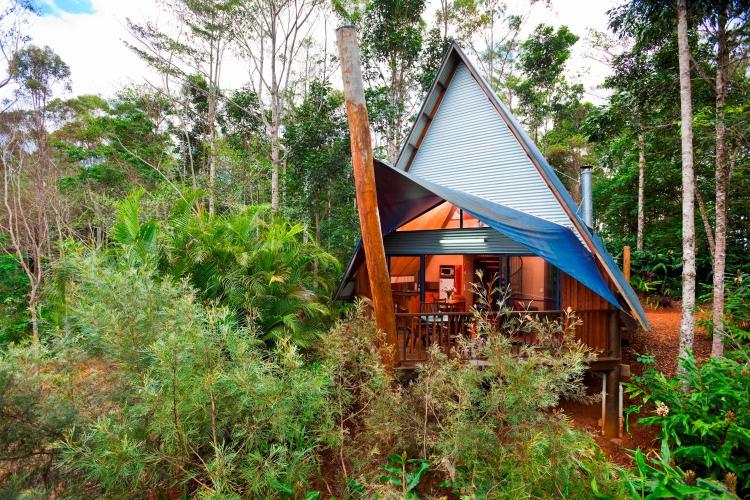 Accommodation options vary to suit different preferences, including studio treehouses perfect for couples, two-bedroom treehouses and villa-treehouses accommodating 4 to 6 guests, and a three-bedroom villa-treehouse which can house up to 6 guests, featuring an outdoor bath and a private balcony.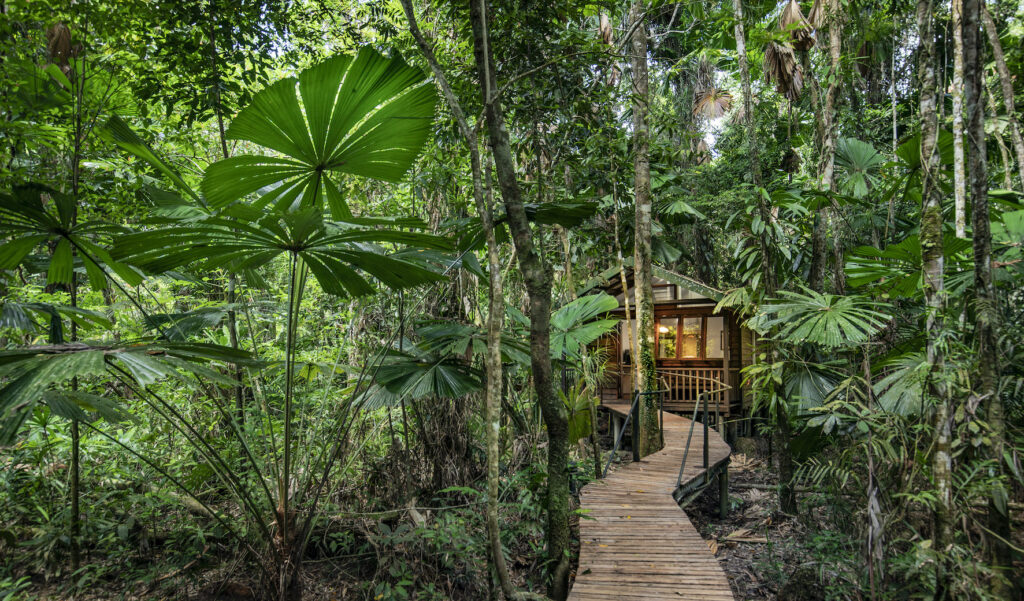 Daintree Wilderness Lodge - The Daintree
Located approximately 140 kilometers north of the Tablelands (and 110 kilometers north of Cairns), the Daintree Wilderness Lodge offers boutique rainforest eco-cabins, nestled in the verdant heart of the Daintree Rainforest. Each of the 7 elevated cabins boasts its own balcony, private boardwalk, and skylight, allowing guests to gaze up into the mesmerizing fan palms above.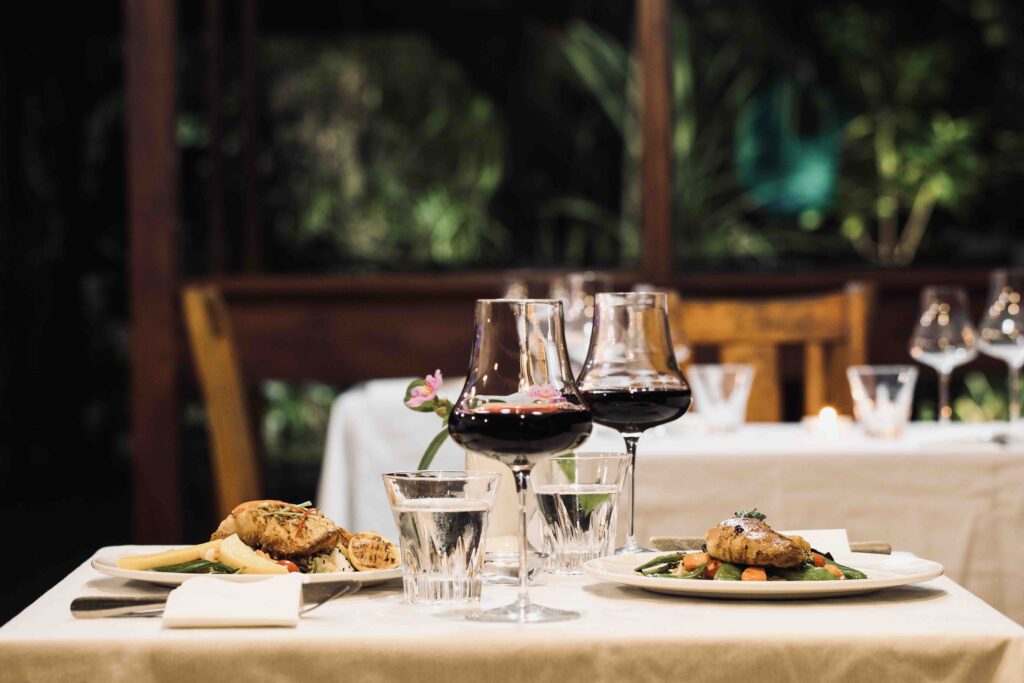 This lodge, which houses a highly-rated restaurant, an outdoor spa, and a nature walk on its premises, creates such an enchanting environment that some guests find themselves not wanting to leave at all. The journey to the lodge itself is an experience, where crossing the Daintree River by ferry transports you into a botanical ark, a haven brimming with ancient plant species and home to rare and unique wildlife.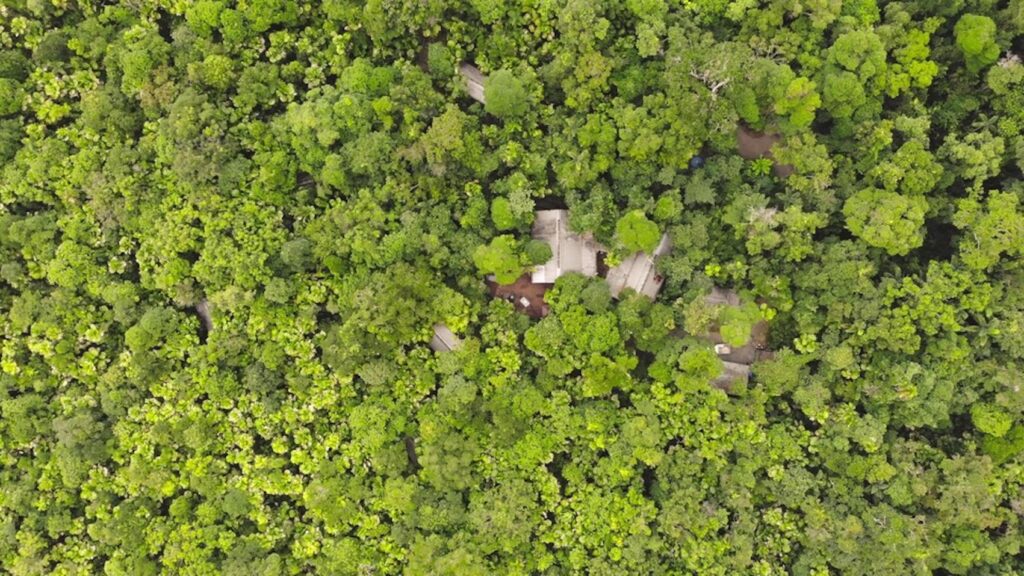 Daintree Wilderness Lodge is deeply committed to safeguarding the Daintree Rainforest, ardently supporting efforts to preserve this natural wonder. Environmental stewardship is evident in their waste management practices, which include comprehensive recycling and composting programs. Equipped with a natural spring water source and a bio-cycle wastewater system, and operating entirely on a stand-alone solar array, the lodge prioritizes the health and preservation of the rainforest in all its operations.
Key sustainable information on each accommodation:
1/ Narrows Escape Rainforest Retreat - Sunshine Coast
Sustainable Waste Systems
Environmental initiatives e.g wildlife and plant
Conservation
Sustainable Water Conservation and Treatment
2/ Elysian LuxuryEco Island Retreat - Whitsundays
Sustainable Waste Systems
Environmental initiatives e.g wildlife and plant
Conservation
Sustainable Water Conservation and Treatment
3/ Rose Gums Wilderness Retreat - Atherton Tablelands
Environmental initiatives e.g wildlife and plant
Conservation
Sustainable Water Conservation and Treatment
Sustainable Power Production Sustainable Construction Practices
4/ Daintree Wilderness Lodge - The Daintree
Sustainable Waste Systems
Environmental initiatives e.g wildlife and plant
Conservation
Sustainable Water Conservation and Treatment
Sustainable Power Production Sustainable Construction Practices