Operating new properties in Melbourne - Adina Apartment Hotel Southbank, Quincy and Vibe Melbourne - TFE Hotels brings interesting places to enjoy the capital of Victoria. Additionally, Rendezvous Hotel Melbourne and Savoy Hotel underwent substantial renovations. TFE also expanded its portfolio with the introduction last February of a brand-new hotel, the Adina Apartment Hotel Pentridge Melbourne.
Unveiled in November 2020, the Adina Apartment Hotel Melbourne Southbank is a striking presence on Melbourne's cityscape, revolutionizing the hospitality sector with its trailblazing eco-conscious design. Located at the junction of Southbank Boulevard and City Road, the 17-floor, 220-room ultra-modern apartment hotel is a sustainable haven amidst Melbourne's urban bustle.
"The hotel's façade, a curved 'glass curtain', is punctuated by floor-to-ceiling windows in every room, offering sweeping views of the city", explains Ral Italiano, assistant director of sales at TFE Hotels. This innovative architecture with its cross-laminated timber (CLT) tower is also made to boosts the city's sustainability efforts. Indeed, this pioneering hotel is Australia's first high-rise hotel 'built out of the sky,' a feat achieved by Bates Smart architects, developed by independent investment house Hume Partners, and operated by TFE Hotels.
Guests can choose from 70 studio apartments with with a microwave, fridge, 140 one-bedroom apartments, and 10 two-bedroom apartments with fully equipped kitchens. While there isn't a designated restaurant for breakfast, guests can opt for a plated breakfast included in their booking. Additional hotel features include a gym, an indoor lap pool, and a light-filled meeting space.
Located in Southbank near the Crown Casino and the Melbourne Convention Centre, this hotel offers easy access to Melbourne's vibrant city life.
Rendezvous Hotel : A century-old gem reimagined
Change of scenery in the heart of Flinders Street, where the Rendezvous Hotel Melbourne combines historic elegance and modern convenience. This heritage-listed Baroque Edwardian style edifice built in 1913 captivates with its architectural charm. The hotel is home to 340 rooms, each offering an experience that intertwines the past with the present.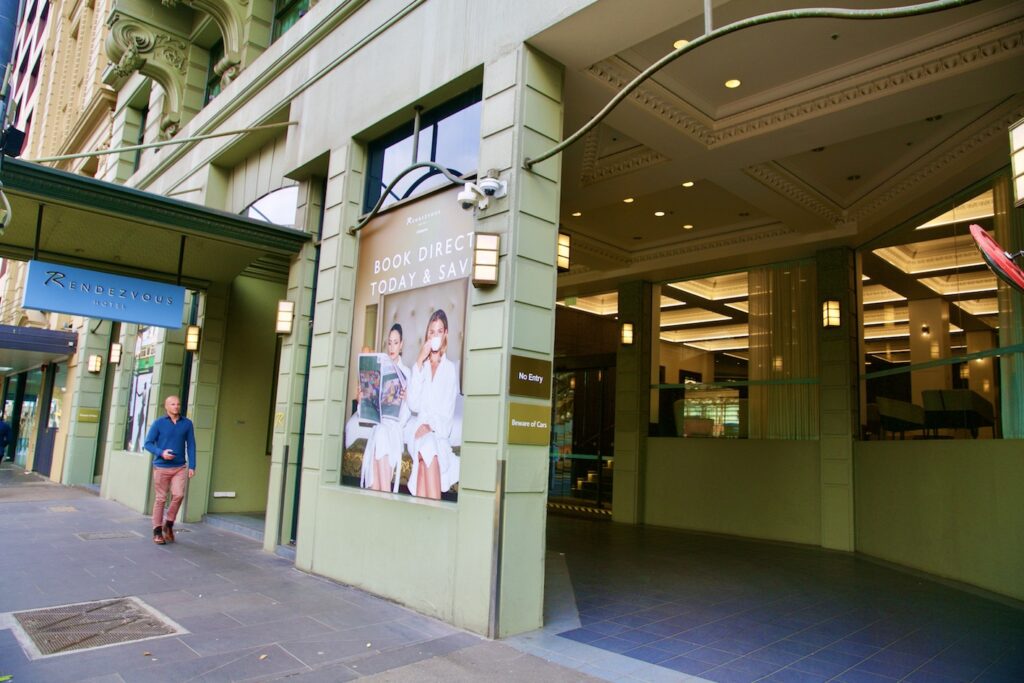 Its leading room type, the Perkins rooms, are named after the famous Hollywood actor, Anthony Perkins, who starred in 'On the Beach', filmed at the hotel in 1959. Those 23-24sqm rooms offer today a sense of intimate luxury with signature Dreamcatcher beds, velvet headboards, a dining table/desk, USB ports, Chromecast smart TV, unlimited high-speed WiFi and adjustable mood lighting. Note, that the Perkins corner offers also great views over the Yarra and the City. Rooms options include queen, king or twin configuration. ​
After closing its doors in 1976, the building faced years of disrepair before a major restoration project in 2021/2022 gave it a new life. The result is a spectacular blend of new and old, where the modernity of the light-filled lobby and check-in desks contrasts beautifully with the grandeur of the old-world Grand Vestibule. The latter, complete with marble columns reaching up to a double-storey domed ceiling, serves as an enchanting prelude to the Traveller's Bar, which offers drinks and light snacks throughout the day.
"The Rendezvous Melbourne continues an important legacy as both a meeting place and piece of living history," comments Solenne Malone-Marty, Director of Sales. "It's within walking distance of everything people come to see and experience in Melbourne."
The Rendezvous Hotel Melbourne caters to FIT travelers and groups alike, with the additional offering of the hotel's restaurant, Mr Tompkins. Open from Wednesday to Saturday for dinner, it serves a tasty modern European-inspired menu.
Savoy Hotel : A Blend of Art Deco Grandeur and Contemporary Luxury
Immersed in the vibrant heart of Melbourne's CBD, the Savoy Hotel on Little Collins stands as a remarkable symbol of Art Deco elegance and a proud testament to the city's heritage. Like the Rendezvous Hotel, historic grace meets here modern luxury in this heritage-listed hotel. "And, we are only a stone's throw away from key transport hubs", adds Ral Italiano.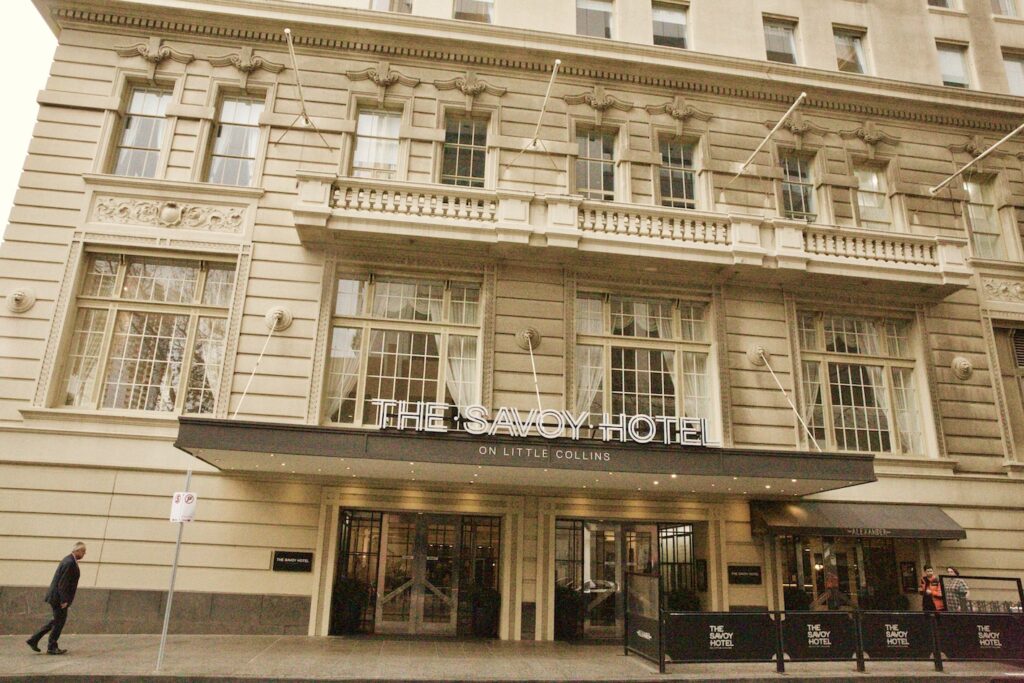 An impressive 11 floors high, housing 163 rooms, the hotel underwent a significant refurbishment in 2018 and 2019. The multimillion-dollar makeover harks back to the glitz and glamour of the original hotel, built in 1928.
The Curve Restaurant on level 2 is dedicated to breakfast. For dinner, groups of up to 90 people can be accommodated. Alternatively, evening meals are served in the chic bar located on the ground floor.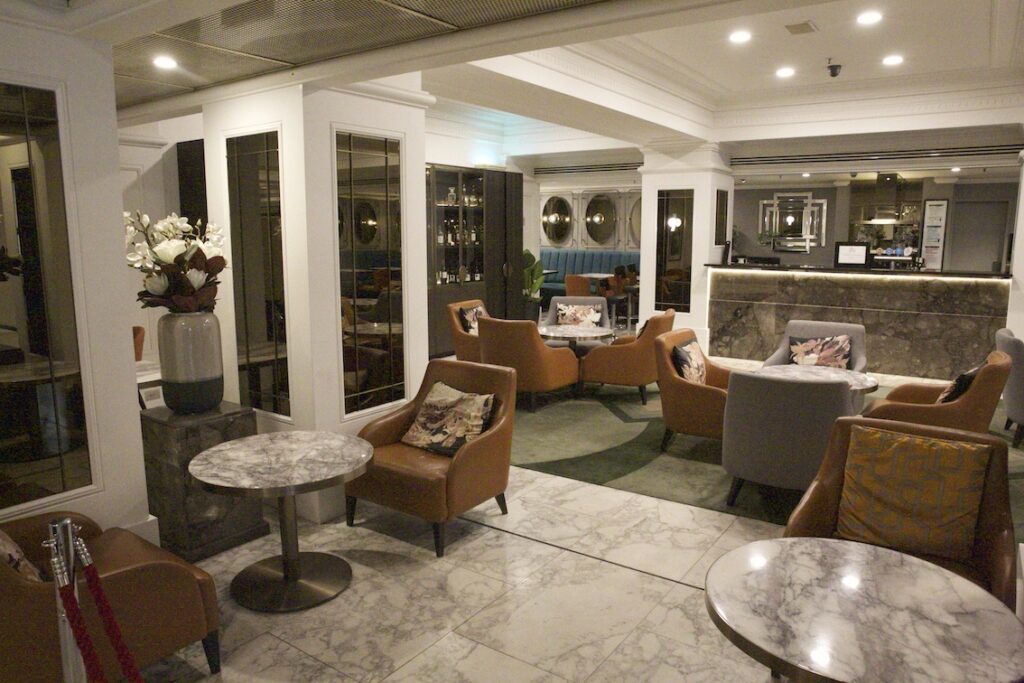 The Vibe Melbourne blends history and modernity
Nestled on the corner of Flinders and Queen streets, the Vibe Hotel Melbourne is an innovating and captivating combination of old-world and modern styles. This 4.5-star establishment operated by TFE, opened in February 2021 within a stunning 24-storey glass-fronted tower, housing 181 rooms and 25 suites.
"The hotel's charm is still deeply rooted in its history, explains Sai Amani, hotel's Manager. The facade of the original two-storey building, constructed in 1873 in a Renaissance Revival style, has been retained, infusing a unique flavour of the past when the maritime trade once thrived here". After changing hands in 1955, it became a retail icon for clothing manufacturer Fletcher Jones, forever imprinting its mark on Melbourne's retail landscape.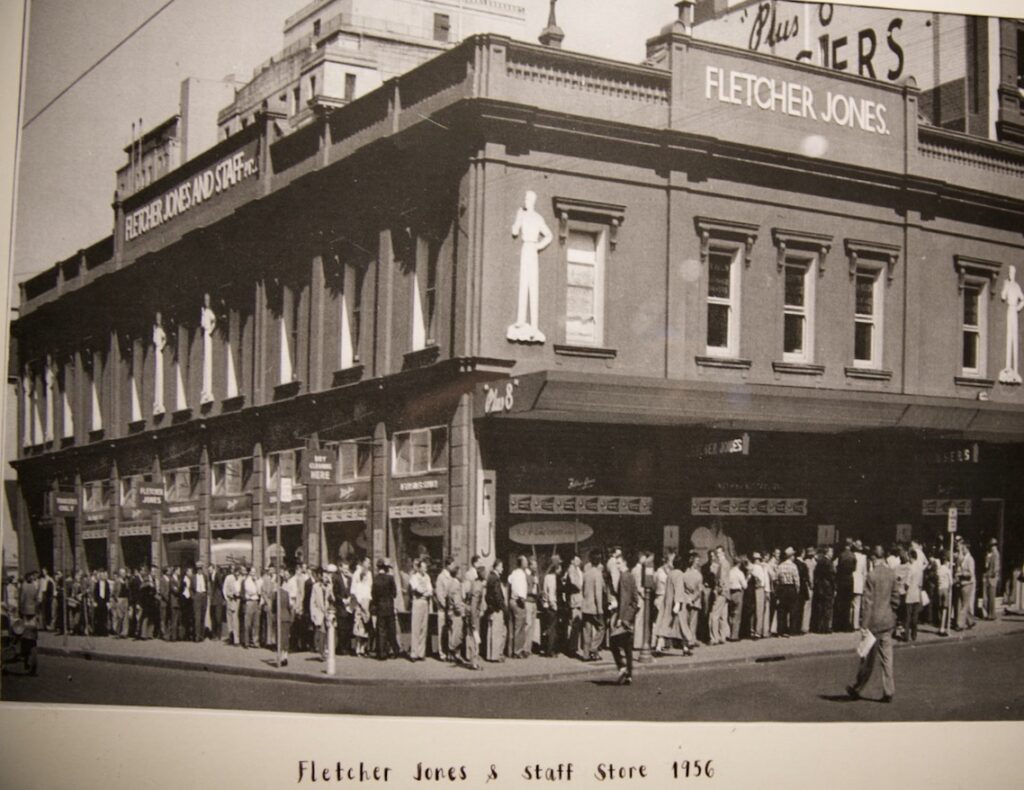 Occupying the upper levels are rooms that offer breathtaking views of the Yarra River extending towards Port Phillip Bay, while its dual frontage ensures sweeping city vistas to the north and south-east.
In a significant development, the hotel will launch a rooftop café on the 22nd floor in late 2023 or early 2024, with beautiful views on the Yarra and the City, following a $2.3 million investment. This addition will complement the ground-floor 80-seat restaurant, set to transition to an à la carte dining experience from September 2023.
The hotel is also equipped with a heated swimming pool and gym facilities.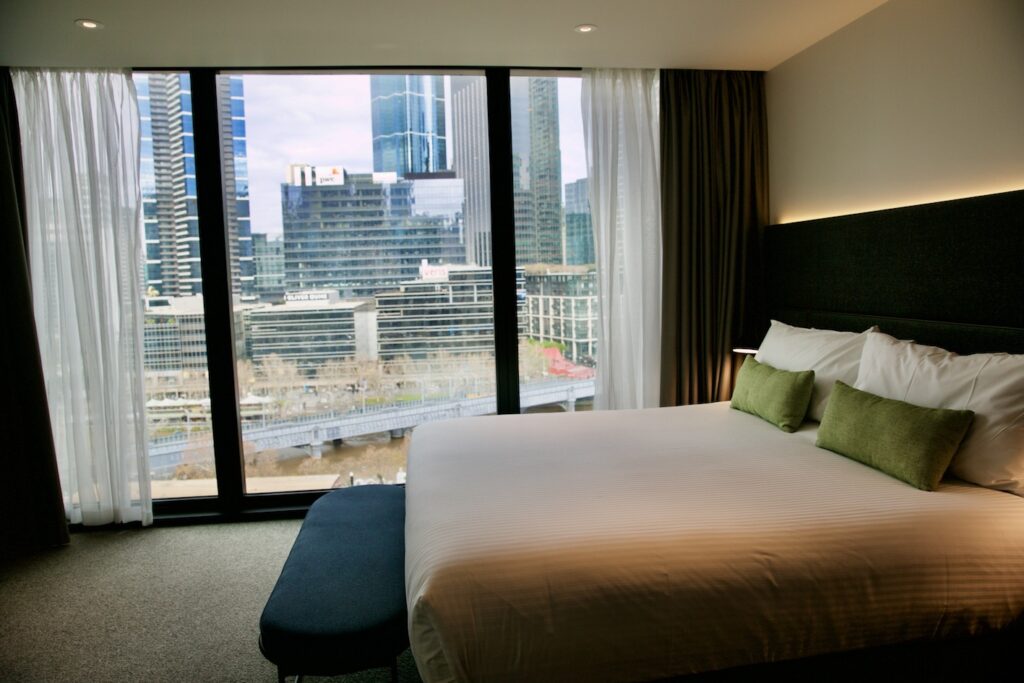 Adina Hotel Pentridge breathes new life into a former prison
As of February 2023, the Adina Apartment Hotel Pentridge Melbourne, a brand-new operated TFE hotel, graces the historic site of the former Pentridge Prison in Coburg, located a 30-minute drive (8 kilometers) from Melbourne's bustling CBD.
The hotel offers 106 modern rooms in a newly built structure, along with an additional 19 upcoming "Interlude" rooms, housed within an adjacent building that served as a prison until 1997. The interesting spin? These rooms are reimagined from the former prison cells, an intriguing and fascinating nod to the site's past.
Occupying the once daunting Division B of Pentridge Prison, the hotel reception is also a testament to blending contemporary design with rich history. This modern interpretation continues throughout the premises, where a striking glass tower stands tall and a porte cochère welcomes visitors in style.
The hotel is part of a comprehensive, billion-dollar lifestyle precinct, introducing a combination of residential apartments, shopping and dining options, and a cinema.