In the northern part of Australia, Arnhem Land (Northern Territory) has remained a pristine and authentic region managed by Aboriginal people. With their consent, the Davidson family has created an exclusive safari camp in Arnhem Land, East of Kakadu. Journey to "Davidson's Arnhemland Safaris" in the sacred earth of another world.
The savannah and marshes stretch as far as the eye can see. Like a painting, the shades of green blend with the blue of the water and the ochre of the rocks. Kakadu Air's Cessna plane takes today a few passengers deep into these preserved lands where only a few Aboriginal families and communities, the rightful owners, live. As a result, the region remains true to what it was centuries or even millennia ago, still imbued with the mysteries and legends nurtured by the continent's early inhabitants. A landscape of rugged ranges fringed by billabongs, flood plains, paperbark swamps, and monsoonal rainforests creates an amazingly beautiful wilderness.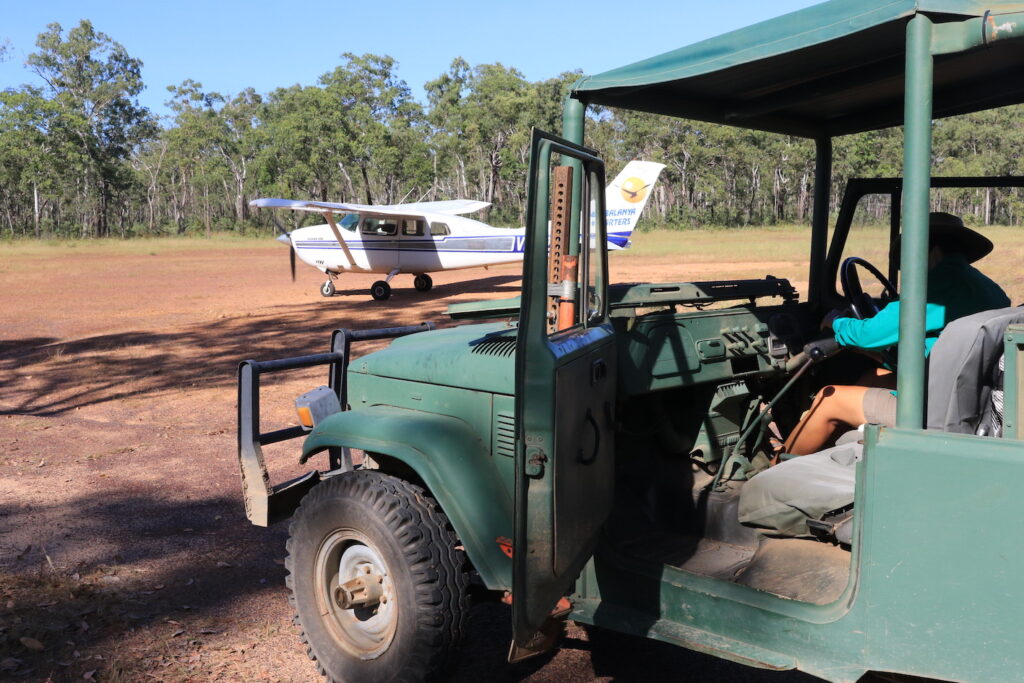 "Nestled against the Arnhemland escarpment, the area has been occupied by Aboriginal people for over 50,000 years, explains Diana Davidson. A significant section of the property is a registered sacred site, and Davidson's Arnhemland Safaris has permission from the traditional owners to take guests through these sacred areas. A truly unique opportunity in Australia". Mt Borradaile is still owned and managed by its traditional custodians, the Amurdak.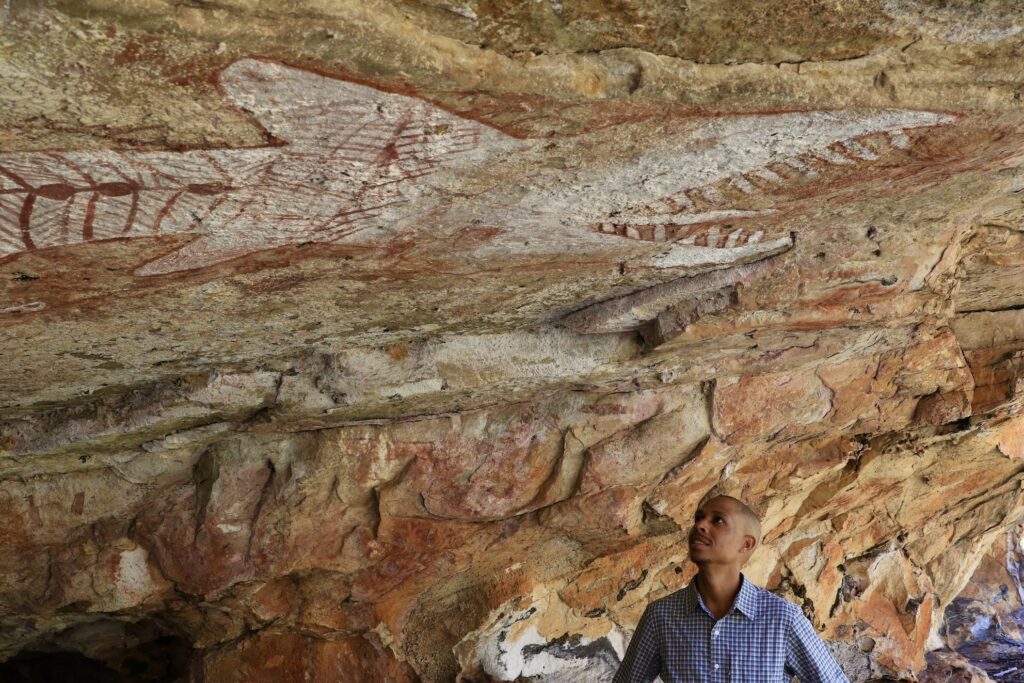 Rhythm of the Dreamtime
Travelers settle in Camp Davidson, on the Mount Borradaile estate, where comfortable stone and canvas bungalows (Ensuited cabins) provide a perfect immersion in this wild environment. A lounge, a bar, a library, and a large outdoor deck area for alfresco dining overlook a sandstone paved pool.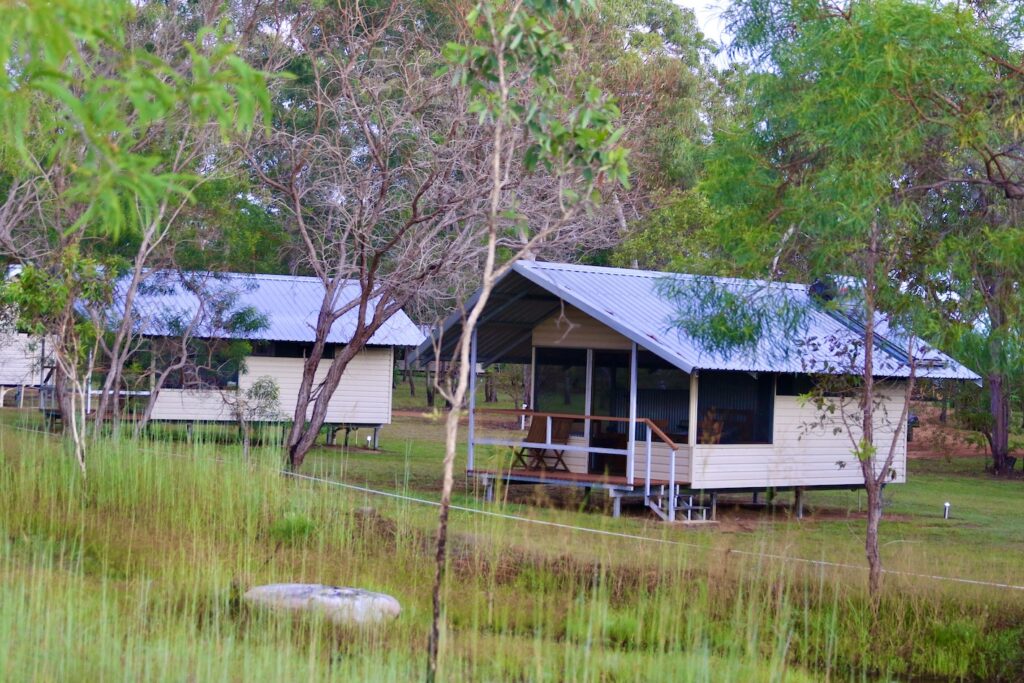 Everything is there to maintain the magic and mystery of this remote territory, which always seems to pulsate to the rhythm of Dreamtime. "We are in the world's richest region in rock art," adds Lee Davidson, director of the lodge. To discover these paintings on the rocks, one must traverse the bush on foot or in a 4x4, or paddle through bird-populated marshes, including the jabiru (a local species of stork), as well as… crocodiles!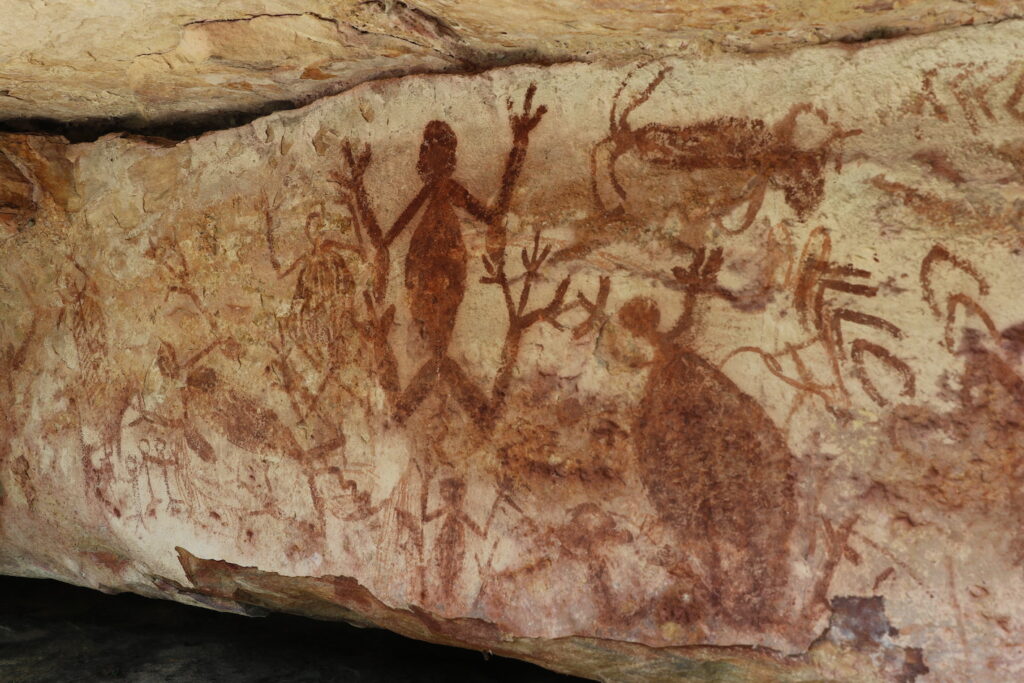 It is a surprising universe, harsh but poetic. Always majestic. "You feel like you're in another world," comments Philippe, a guest who came to spend a few days in the camp. Meadows and eucalyptus forests echo immense marshes teeming with birds, sometimes crossed by herds of wild buffaloes.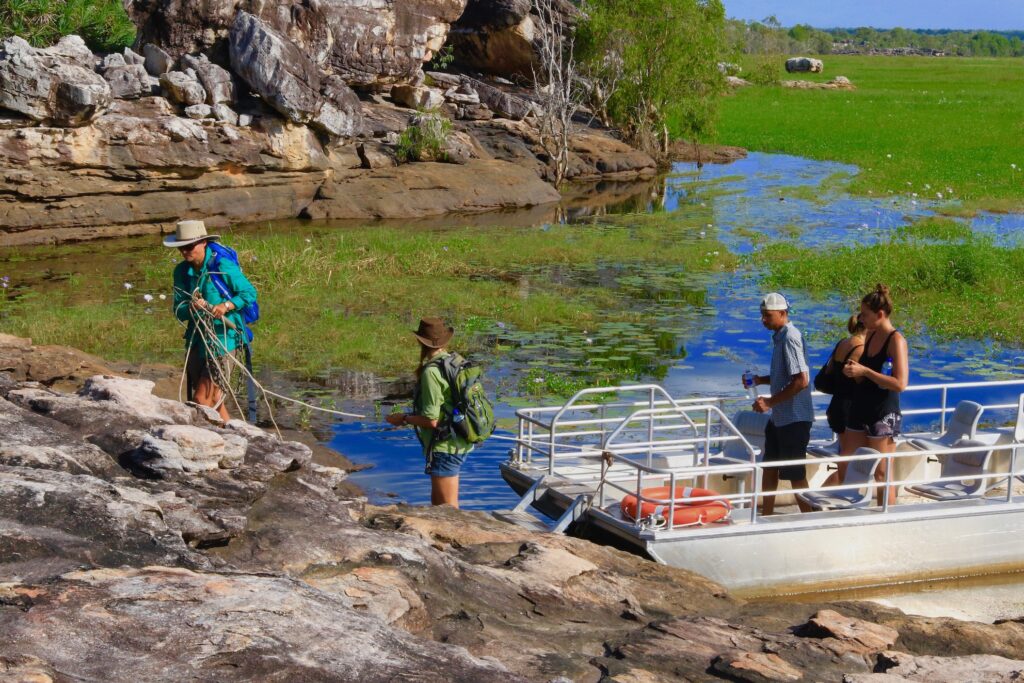 Access by Plane or 4WD
Davidson's Arnhemland Safaris began operating in 1986 when the traditional owners of the area approached Max Davidson regarding the possibility of a tourism venture at Mt Borradaile. The lodge has evolved over the years to become a premium destination in Arnhem Land.
Access to Davidsons is available year-round by light aircraft, offering an amazing scenic flight along the coastline from Darwin, or a short 30 minutes flight from Jabiru. Self-drive is also an option from May to October with 4WD access. Due to inclement weather conditions that may leave guests stranded in either Darwin or Mt Borradaile, Davidsons is closed from November 1st to March 1st. Guests typically stay at the lodge for 3-4 days, providing them with enough time to explore and enjoy the diverse ecosystems, a variety of rock art styles, and abundant wildlife. Please note that a minimum stay of 2 nights applies at Davidson's Arnhemland Safaris which can accommodate up to 40 guests.
Pictures : © Patrick Cros / Goway
We acknowledge the traditional Aboriginal owners of country and pay our respects to them, their culture and their Elders past, present and future.