Tiny homes, glamping, and cabins represent a contemporary and trendy alternative accommodation to enjoy the beauty of Australia. Goway has been actively engaging in agreements with new properties, offering unique and boutique options for your clients travelling Down Under.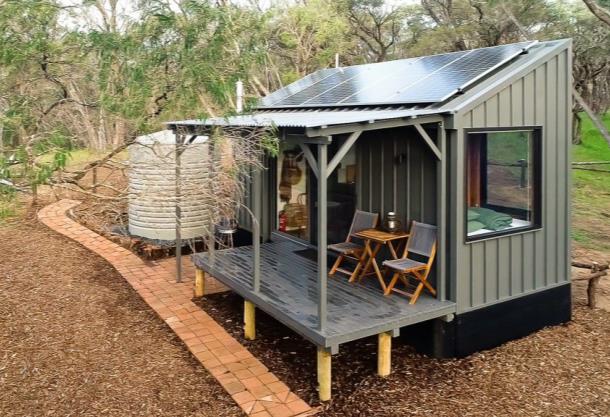 From pristine beaches and abundant wine regions to secluded outback hideaways and quaint country towns, Australia offers a wealth of unique accommodations such as tiny homes, cabins and glamping to explore at any time of the year.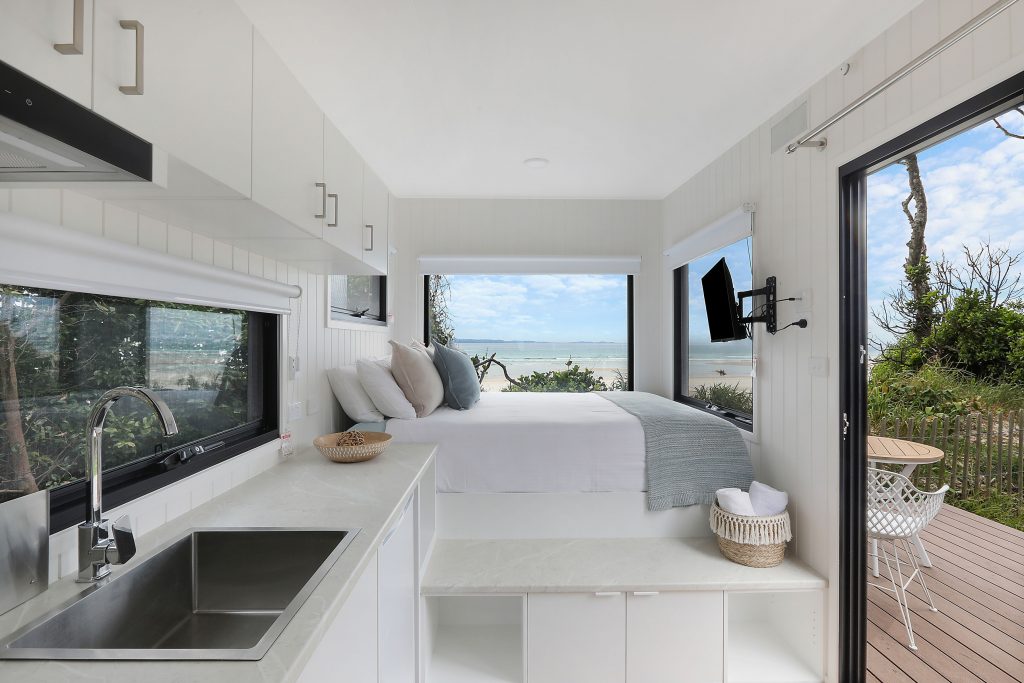 With its 36 holiday parks, Reflections Holiday Parks has launched this year, for example a collection of chic new Tiny Homes across NSW coastal parks, including locations such as Jimmy's Beach, Moonee Beach, Ferry Reserve, and Byron Bay. Situated opposite Clarkes Beach in Byron Bay, new tiny homes, ideal for a couple, feature a fully equipped space boasting a light-filled lounge area, a kitchenette with amenities such as a microwave oven, cooktop, and dishwasher, and a modern en-suite that leads into a cosy bedroom equipped with either a double or a queen bed.They are designed with a significantly reduced carbon footprint, harmoniously integrating into the stunning environments that surround them. Not only are they compact, but they also consume far less energy for heating or cooling, courtesy of expansive windows that encourage a generous influx of natural light and air flow.
Setting a precedent as the first holiday park group in Australia to achieve certification as a social enterprise, Reflections Holiday Parks showcases the natural beauty of New South Wales, all while wanting to protect and preserve the areas.
Goway is connected dynamically with this provider to give instant confirmations for its cabins, tiny homes and glamping tents.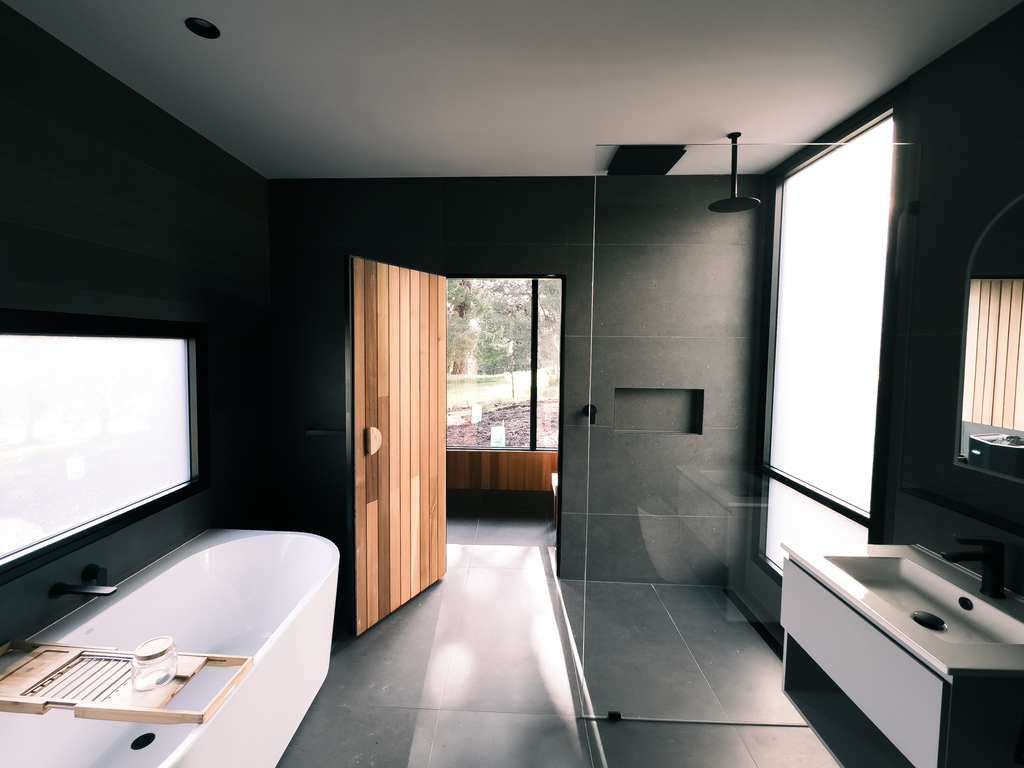 CABN Life: Experience South Australia in complete privacy
In South Australia, CABN Life is another way to allows guests to immerse themselves in australian landscape while encouraging disconnection from everyday life.
Each cabin, crafted primarily from locally sourced and sustainable materials, embodies a "leave no trace" philosophy, requiring minimal infrastructure. These completely off-grid, minimalist, sustainable, and eco-friendly cabins nestle within nature, equipped with all the essentials.
You can find these havens at serene and secluded locations throughout South Australia, including places like the Barossa (at Seppeltsfield, just 55 minutes north of Adelaide), Clare Valley, McLaren Vale, and Kuitpo Forest (40 km to the south of Adelaide en route to the Fleurieu Peninsula), and at Cape St Albans on Kangaroo Island (30-minute drive from the Kangaroo Island SeaLink ferry terminal at Penneshaw and less than an hour's drive from Kingscote airport).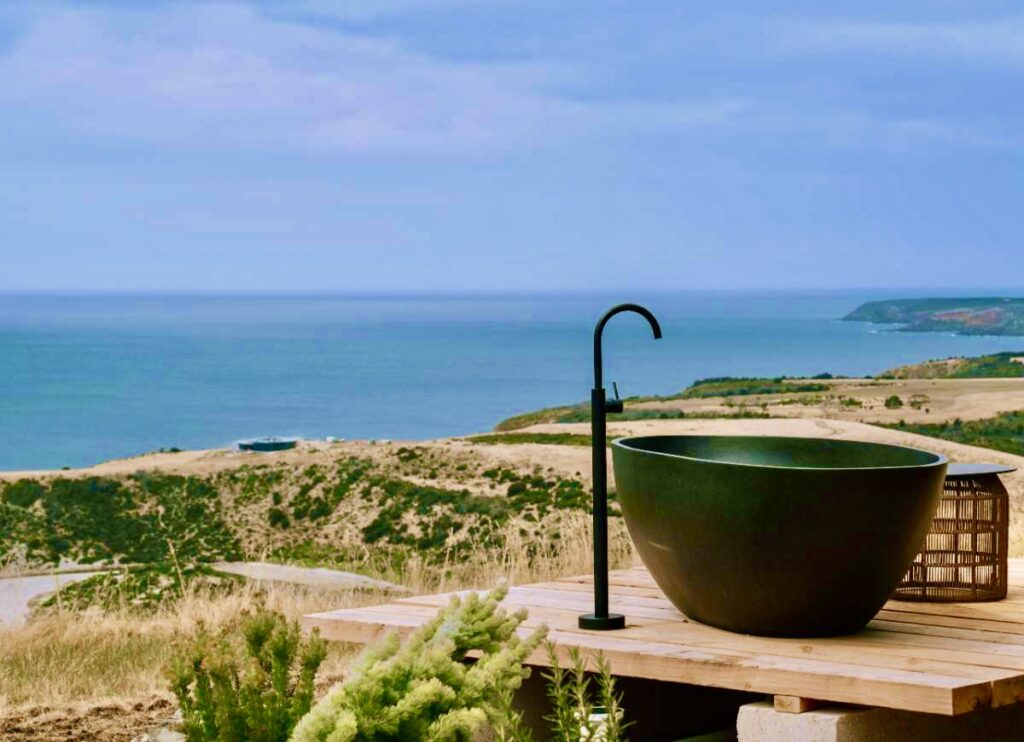 Positioned on a promontory that overlooks a pristine coastline of Kangaroo Island, CABN X offer stunning views of Antechamber Bay. This collection of five cabins are situated to offer privacy, allowing guests to enjoy the sweeping vistas the Cape has to showcase. Each is fully off-grid, providing amenities such as a cosy indoor fireplace, a private sauna with bay views, full-sized indoor and outdoor baths, king-sized beds, and a private deck featuring an undercover area. They are also fitted with a solar-powered reverse cycle heating and cooling system, ensuring a comfortable stay amidst nature's embrace.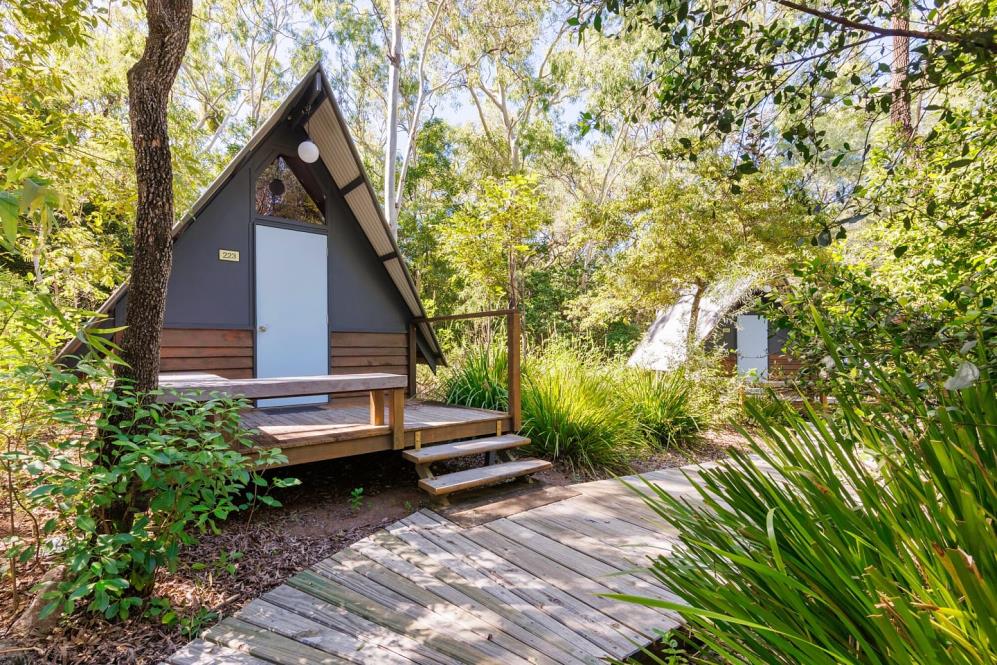 Selina courts the « nomadic travelers »
In Melbourne, Brisbane, and Magnetic Island, Selina has developed a unique tourism concept. Blending recreation, wellness, local experiences, and even coworking spaces, Selina, a brand originating from Panama, introduced its concept in Australia with the launch of Selina Central Melbourne and Selina St Kilda in 2022, later expanding to Brisbane and Magnetic Island in 2023.
Selina's Melbourne locations offer budget-friendly accommodation options, encompassing a mix of communal rooms and private suites. Additionally, they feature coworking and recreational spaces, boasting amenities like in-house cinemas, libraries, kitchens, wellness spaces, cafés, and bars.
Having opened its doors last March, the Selina Magnetic Island hotel is situated within a mere 5-minute walk from Horseshoe Bay. It provides a diverse range of accommodation options, from powered caravan sites to private rooms (including a standard room for two, a family room for up to six people, or a glamping tent for two), enabling guests to tailor their stay according to their budget. The facilities at this location include a swimming pool, wellness deck, coworking spaces, an outdoor bar, a pool table, and a unique on-site wildlife park that houses turtles, koalas, wombats, and … crocodiles !
"Start your day with a wellness class followed by a locally-sourced breakfast before venturing out to enjoy the island," says Hady Acurio, Sales Manager at Selina. Among the optional experiences : breakfast or yoga sessions "accompanied by koalas".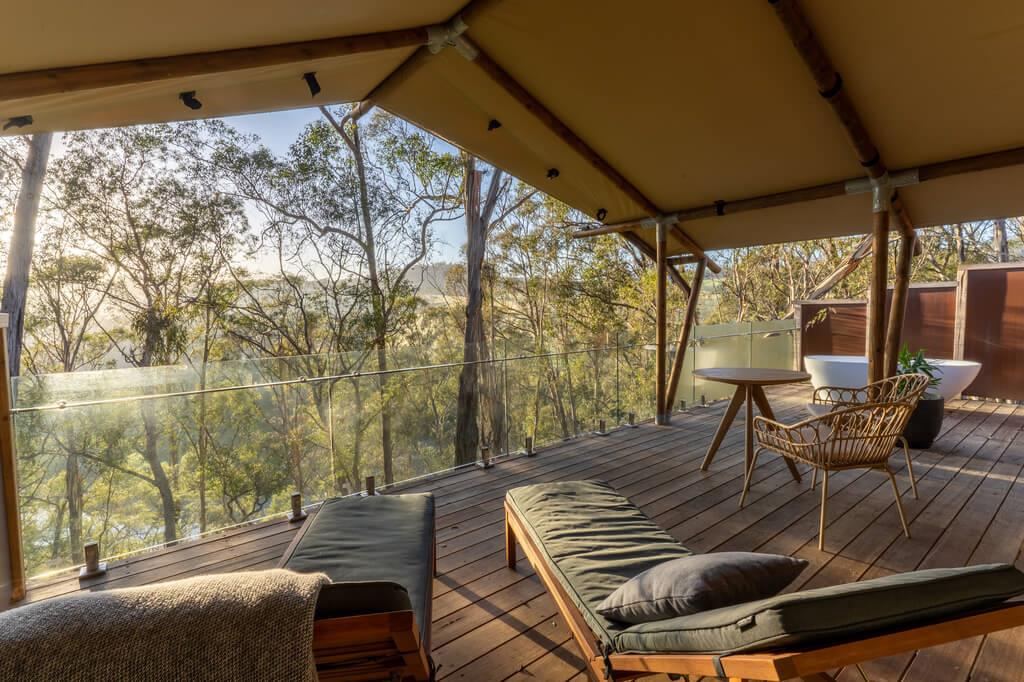 Farm experience at Currajong Retreat
Another example of unique accommodation can be found at Currajong Retreat in New South Wales, situated 45 minutes from Merimbula Airport and the Sapphire Coast, and approximately 470 kilometers south of Sydney. The retreat offers three all-inclusive luxury tented accommodations, located on a working Angora goat farm. The establishment is managed by Gavin and Jenny Forsdick, along with their daughter Lara, who devote themselves entirely to the nurturing and caring for both their guests and the farm.
Upon waking up, guests are treated to a breakfast delivered in a hamper, brimming with a lavish assortment of items, including eggs freshly laid by the farm's chooks, homemade granola, and bread sourced locally. The jams served are homemade, crafted from some of the 26 varieties of fruit cultivated at Currajong. Dinner is an equally delightful experience, with a choice of two meals that can either be enjoyed within the privacy of your tent or near the firepit in the Outback-style boma.
Throughout the day, guests have the opportunity to join the daily farm activities, such as relocating the goats from the shearing shed to the lush paddocks in the vicinity. A particularly wonderful time to visit is during September and October, which coincides with the lamb birthing season. Guests are often given the privilege to assist in bottle-feeding.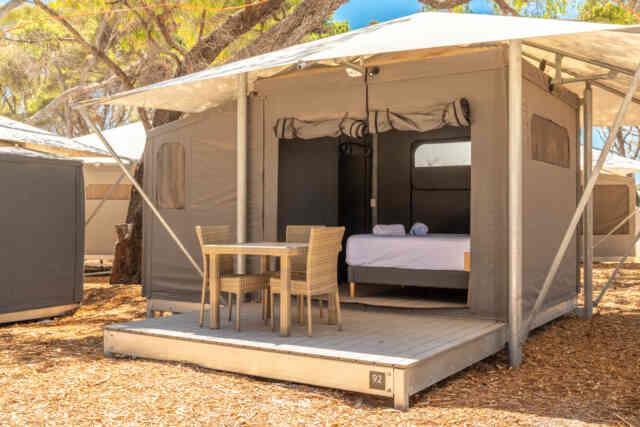 Glamping on Rottnest Island
Nestled behind the dunes of the iconic Pinky Beach, Discovery Rottnest Island, which opened its doors in 2019, also believes in promoting enrichment, fostering connections, and minimizing environmental impact.
Guests at this location are treated to a harmonious blend of luxury and nature, with accommodations comprising 83 eco-tents all crafted with thick, durable canvas that flawlessly merge into the natural surroundings, offering a luxurious comfort. Each morning, guests are greeted by a gentle sea breeze and picturesque beach views. The glamping tent options cater to a range of preferences: the deluxe oceanside tent, which accommodates two guests; the superior access tent, spacious enough for four; and the deluxe family tent, with capacity for a family of five.
As the day draws to a close, guests can immerse themselves in the breathtaking spectacle of the sunset from the dunes overlooking Pinky Beach, before retreating to their tents to drift into a peaceful slumber under the twinkling stars, truly embodying the essence of magical moments.
However, securing a spot at this highly sought-after property can be quite a challenge due to its immense popularity. It is highly recommended to book well ahead to ensure availability.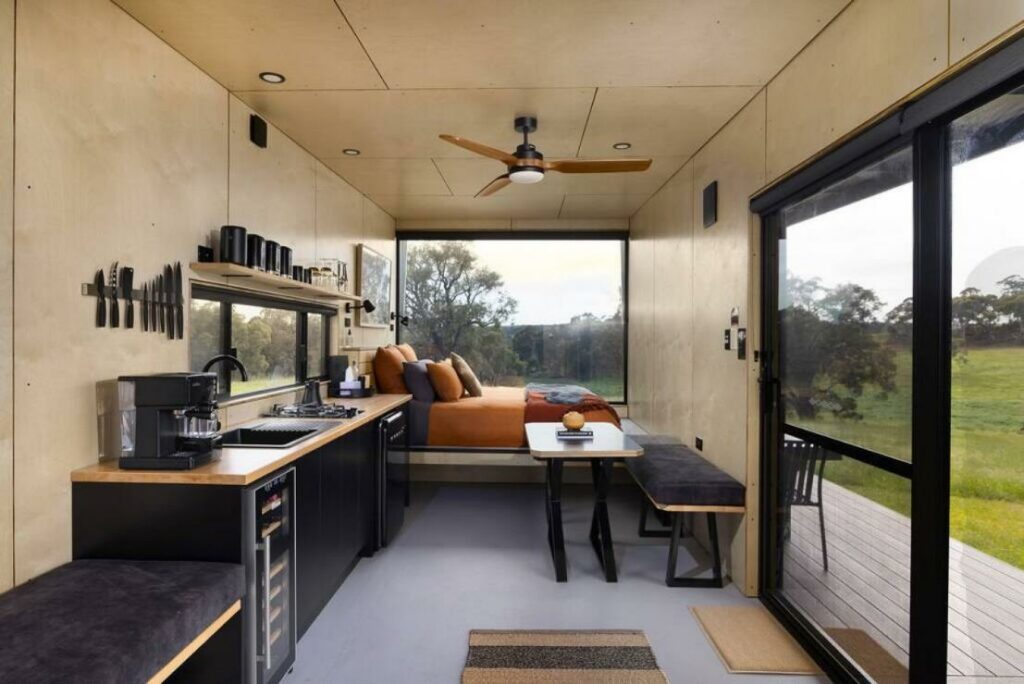 Escape at Heyscape
Also in Western Australia, Heyscape offers cosy secluded tiny Cabins in 7 locations across south-west of the state (In Chittering, Serpentine, Yallingup, Avon Valley, Narrogin, Busselton and Esperance). Stylishly appointed with knockout views, they are perfect places to relieve the stresses of modern life, all within a couple of hours drive from Perth. They are fully equipped, from a queen-sized bed & bedding (sheets & quilt), pillows and even reading lights, to an indoor kitchenette and an outdoor BBQ with all essential cookware and a small fridge.