As a complement to Field of Light and Sound of Silence, Voyages Indigenous Tourism Australia has launched in May "Wintjiri Wiru", a cultural storytelling experience at Uluru, developed in collaboration with the Anangu community. Two experiences spotlight the deep connection between the land, the Anangu people, and their eternal tales: a Sunset Dinner and an After Dark show, every night, from March to December.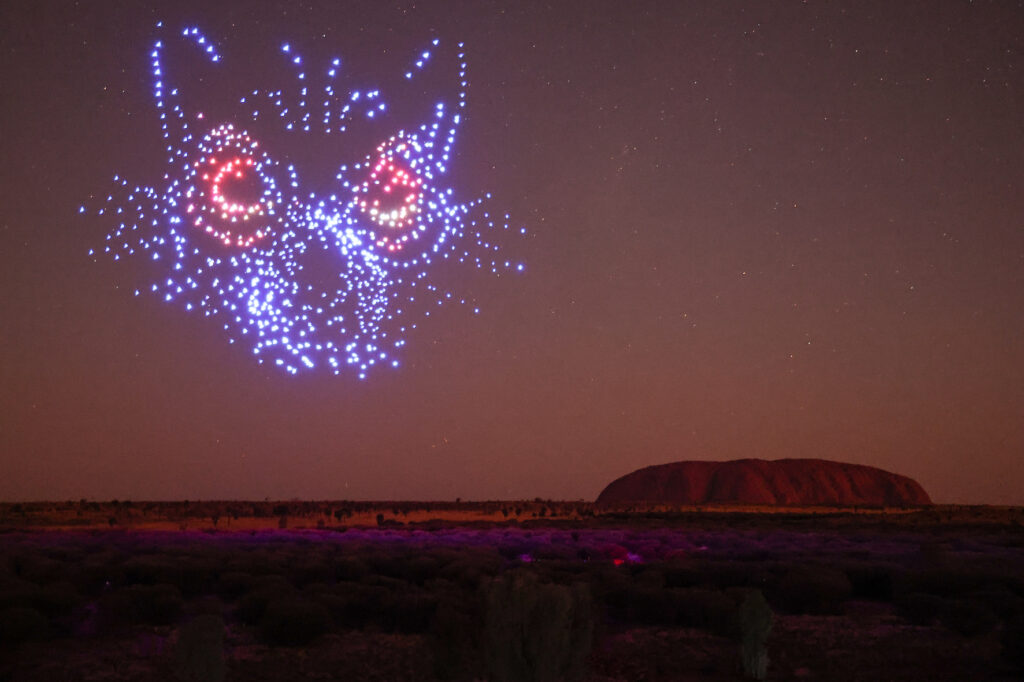 The signature experience is a three-hour Wintjiri Wiru Sunset Dinner that begins with welcoming cocktails and canapes while the sun sets over Kata Tjuta and Uluru. A gourmet dinner hamper follows, featuring native ingredients and paired with premium Australian wines. As darkness descends, the dramatic light and sound show begins. A second show each evening, "After Dark," is a shorter, hour-long experience that includes light refreshments followed by the show. The two experiences blend the ancient Anangu storytelling about Mala with cutting-edge drone, laser, and light projection technology.
Wintjiri Wiru - meaning "beautiful view out to the horizon" in the local Anangu language - brings a chapter of this ancestral story, set between Kaltukatjara and Uluru, to life.
An Authentic Storytelling
To develop this experience, Voyages worked closely with ten senior Anangu members to ensure an authentic and respectful portrayal of the story. "We are Anangu, custodians of one of the oldest continuing cultures on earth. Our ancestors carried and shared this journey through inma, our songs and ceremonies," explains Rene Kulitja, speaking on behalf of the Anangu Consultation Group. "Wintjiri Wiru is our gift to the next generation, and we have collaborated with Voyages to create it."
Designed by RAMUS, a renowned media architecture studio, Wintjiri Wiru lights up the desert with projections and lasers, connecting earth and sky, with Uluru as the backdrop. The team at RAMUS conceptualized the show, using drones to illustrate the Anangu "Mala story" in the sky. In this way, over 1,000 luminous drones take flight each night, choreographed to represent aspects of the story, accompanied by narration in Pitjantjatjara and Yankunytjatjara languages, along with a soundtrack featuring traditional inma recordings by the local Anangu community.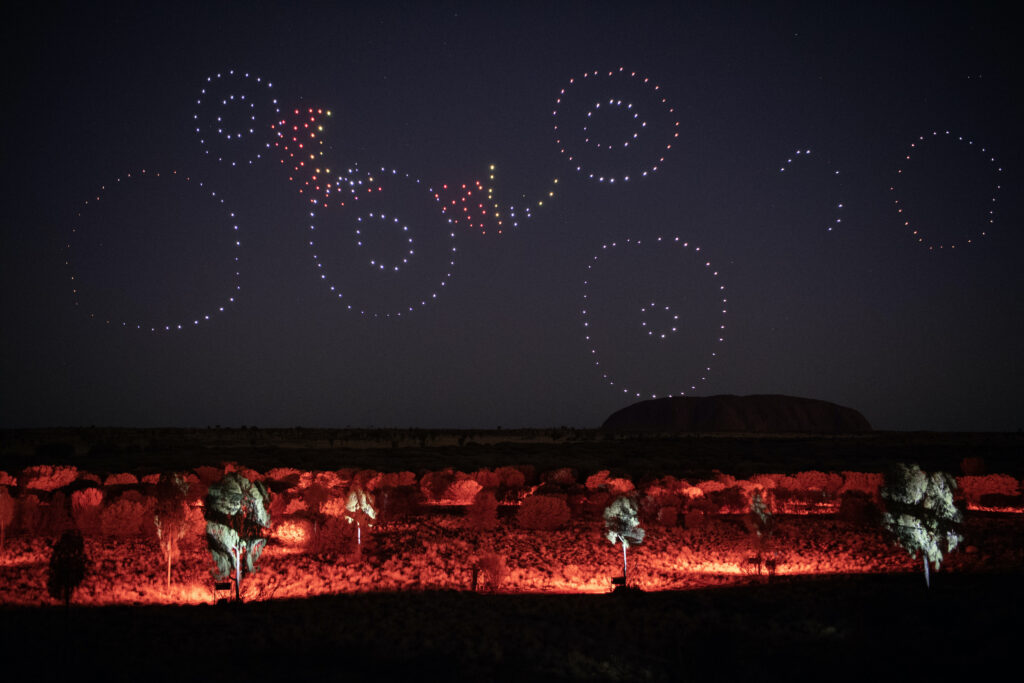 The Anangu Vision for Wintjiri Wiru
"We are thinking about our future. We are looking forward and have created Wintjiri Wiru for the next generation, for our grandchildren," says Rene Kulitja. "We have held hands with Voyages to create Wintjiri Wiru together." From the beginning, Voyages has indeed worked on this project with the Anangu Working Group. "People from every place have come to see Uluru. Now we want people to come and experience our story in a new way. We want visitors to know this is our story, to look, listen, and feel with us. Our stories have been here since the beginning, and we want to share this story with the world."
Visitors can witness the spectacle from an environmentally sustainable platform, providing panoramic views of Uluru and Kata Tjuta, featuring backlit artwork by local artist, Christine Brumby, enhancing the immersive experience.
The Wintjiri Wiru experience offers two nightly performances: the three-hour Sunset Dinner and the 1.5-hour After Dark show. This Wintjiri Wiru Sunset Dinner takes visitors on a culinary journey celebrating native Australian produce and Indigenous bush foods, curated by renowned Indigenous chef, Mark Olive.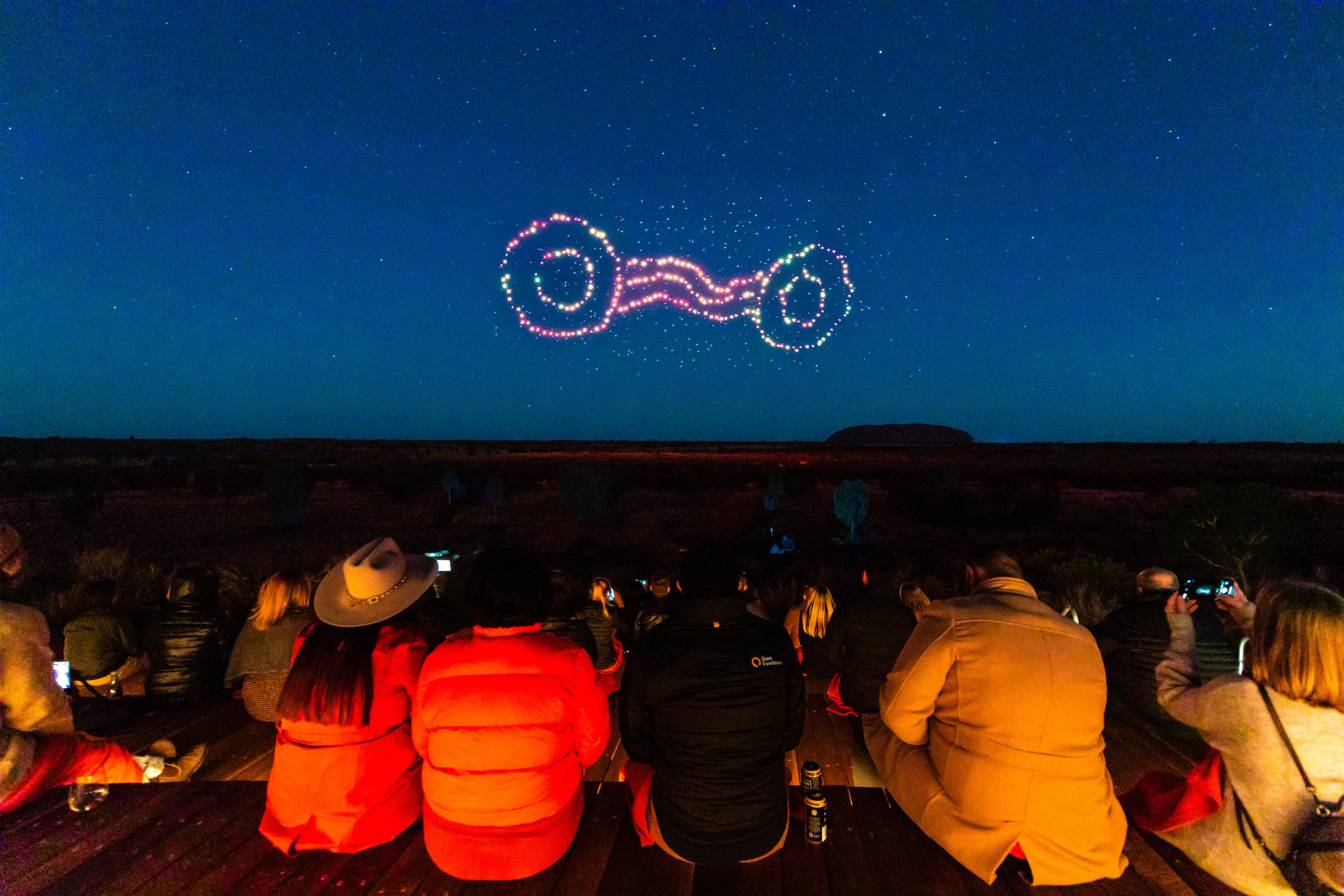 Exploring Ancient Story with Modern Technology
The Wintjiri Wiru Sunset dinner experience starts deep in the desert. After a short trip from Ayers Rock Resort, visitors enjoy a gentle evening stroll through the desert along an elevated walkway until reaching an open-air theater, set upon a dune top. They are greeted with cocktails, infused with native ingredients while taking in the incredible views and watching as the sun slowly sets over Uluru and Kata Tjuta. Then, the culinary adventure unfolds with a gourmet dinner hamper where native ingredients are combined with modern culinary techniques to create a masterpiece for the palate. With the heart of Australia as the backdrop, a story passed on for thousands of generations is told. The ancient Mala story is re-told like never before with ground-breaking technology. Choreographed drones, lasers, and projections take flight, lighting up the night sky in a modern, artistic expression of an ancient Anangu story. A powerful connection to the land is underscored by a traditional Inma soundtrack and narration in the local Pitjantjatjara language, immersing you in a living story.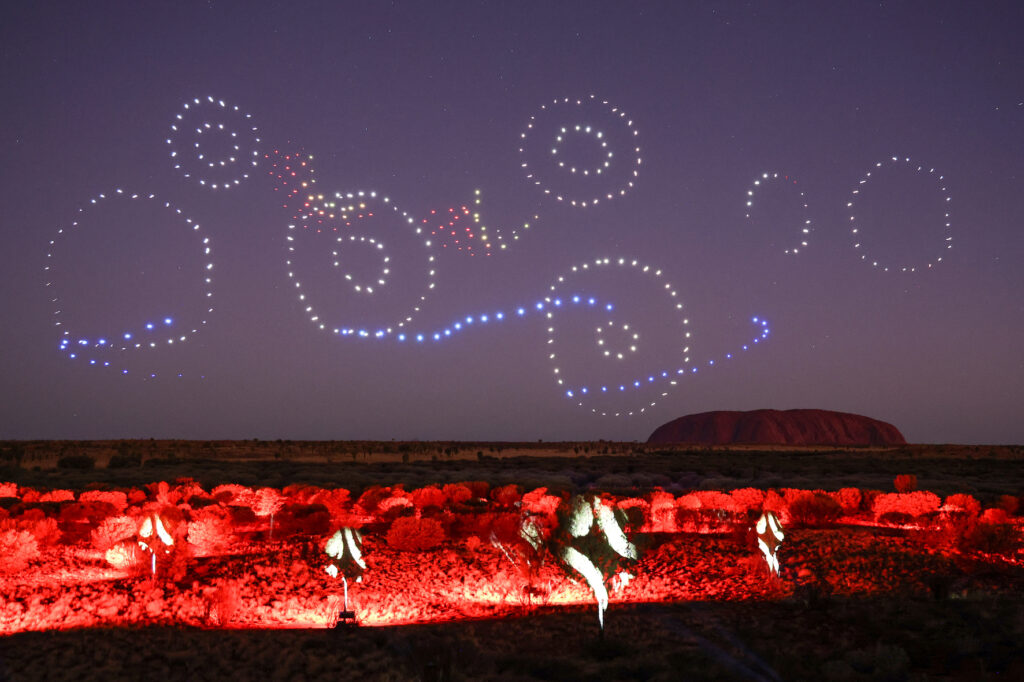 The Wintjiri Wiru After Dark
Another experience, The Wintjiri Wiru After Dark, allows visitors to enjoy the ancient Mala sound and light story show, without the dinner, from February to November. The duration is about 1.5 hours, with 1 hour on site, and departs approximately 2 hours after sunset from the hotels to arrive at the open-air theater, set upon a dune top, with views of Uluru and Kata Tjuta.
Key informations :
The Wintjiri Wiru Sunset Dinner tour duration is approx. 3 hours (2.5 hours on site) - Departs from hotels approximately 1.5 hours prior to sunset. Available between Mars and December.
The Wintjiri Wiru after dark tour duration is approx. 1.5 hours (1 hour on site) - Departs from hotels approximately 2 hours after sunset - Pass includes: Immersive sound and light show depicting the Mala story, Light refreshments, and return transfers. Available between February and November
Photo by Getty Images for Voyages Indigenous Tourism Australia