https://youtu.be/jn6vHrw44w8 

Let's go with Goway to one of the world's most liveable city ! Our team is at your service to craft the travel experience your clients are dreaming of.
With over 5 million inhabitants, the capital of Victoria is a vibrant and bustling city. Founded in 1835, Melbourne boasts many Victorian buildings, a multitude of parks and gardens, modern shopping galleries, lively markets, a vibrant cultural life, and major sporting events such as the Formula 1 Grand Prix and the Melbourne Cup, a horse race famous throughout Australia. The city is also the only one in Australia to have a comprehensive tram network. Airport/City distance: about 25 km - Duration of the trip: 35 mn.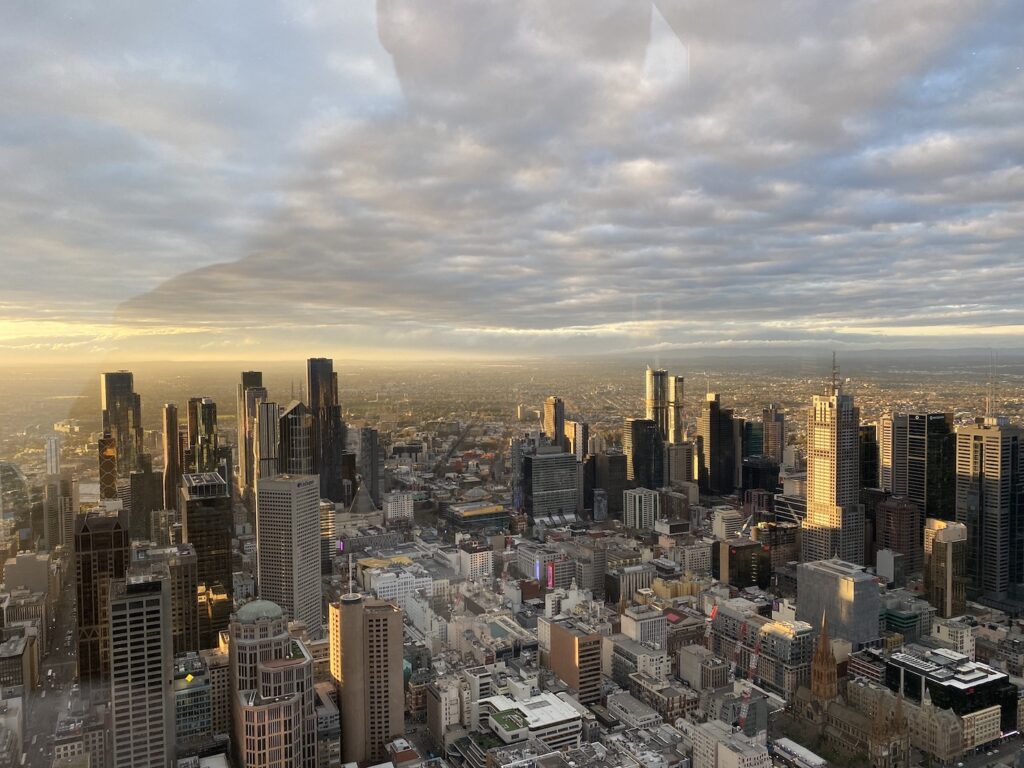 The City
Melbourne is renowned for its cultural life, with its performances, museums, and art galleries. The City is also known for its wealth of restaurants. Asian cuisine can be found in Chinatown, on Little Bourke Street. Greek and Italian restaurants have established themselves north of the city center, on Lygon Street. Local specialties include regional seafood such as whiting, scallops, lobsters, and oysters. The City is also home to Melbourne's main commercial districts, along the Yarra at Southbank and between Spring, Queen, Flinders, and Lonsdale streets. The capital is also famous for its urban art in some lanes : Here graffiti is not a public offence, it's an ever-transforming exhibit !
Take note!
Since 1999, the Australian Formula 1 Grand Prix has taken place in March in Melbourne, in Albert Park. It is one of the major annual events in Victoria's capital. The next one will be held from Thursday 21 to Sunday 24 March 2024.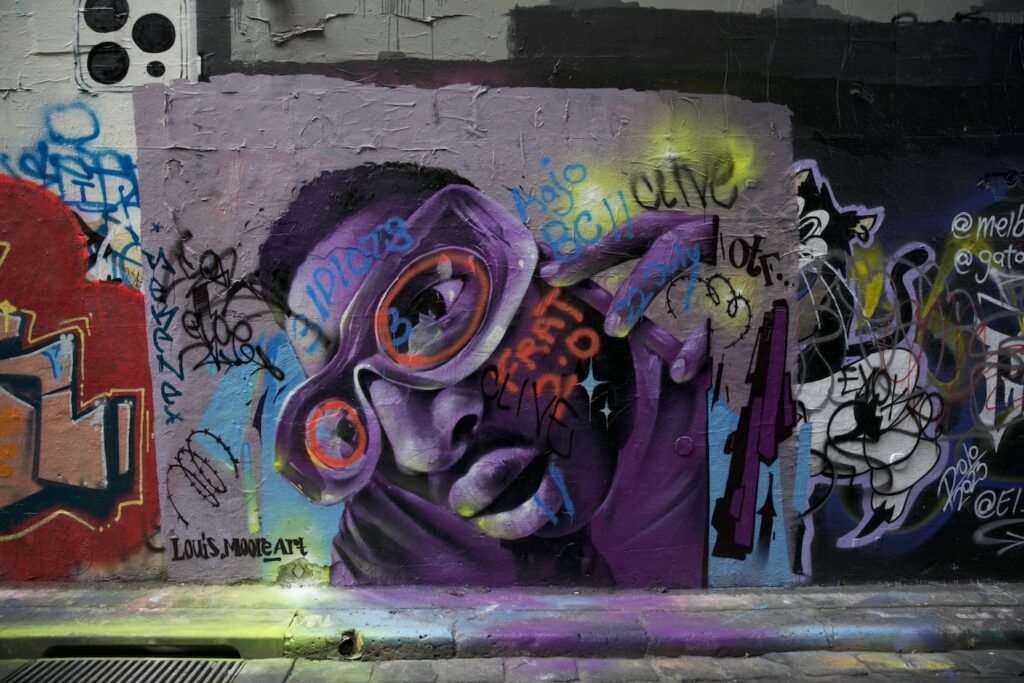 ◊ Southbank
Southbank is a bustling, modern neighborhood located on the southern banks of the Yarra River. Once an old industrial area, it has been transformed into a vibrant, high-rise district teeming with cultural hotspots, fine dining, and urban living.
A highlight of the Southbank area is its picturesque riverside setting. The Southbank Promenade, lined with restaurants, cafés, and bars, offers a bice stroll with its views of the city skyline and the Yarra River. This riverside promenade is also a hub for street performers and hosts several arts-related festivals throughout the year.
One of the most prominent landmarks in Southbank is the Eureka Tower, one of the tallest towers in Australia, offering visitors beautiful panoramic views of the city.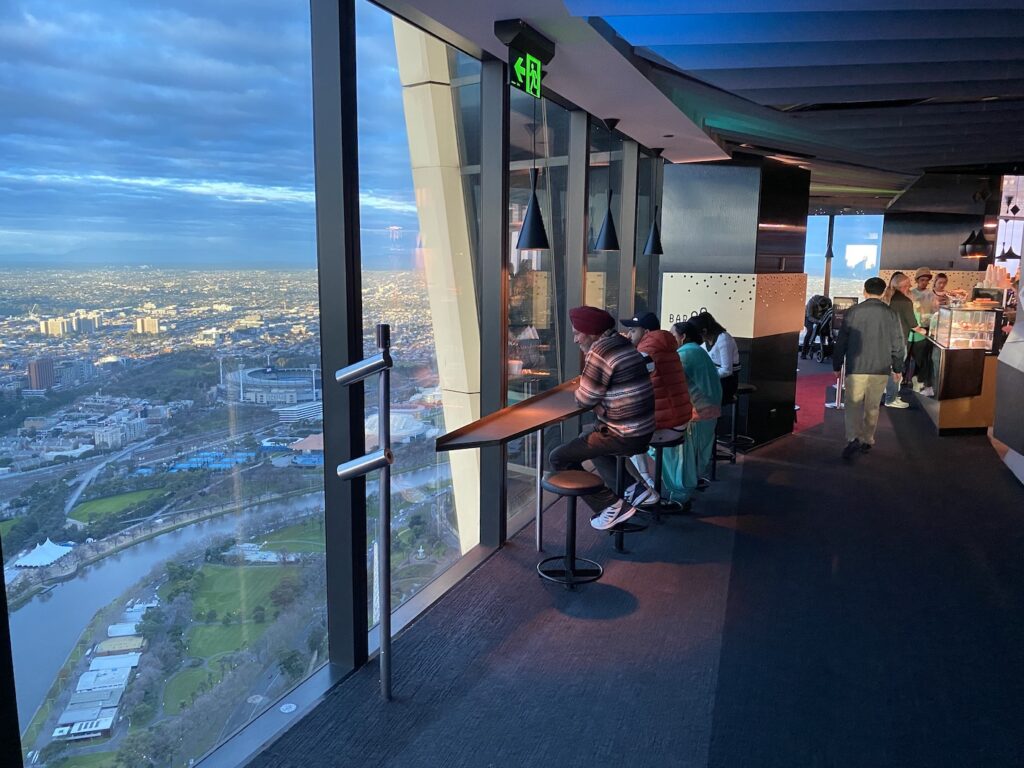 Southbank is also known for its public art, from the sculptures along the promenade to the iconic "Angel" street art. The presence of several art galleries and the National Gallery of Victoria further establish Southbank as a major cultural hub in Melbourne.
The Arts Centre Melbourne, the Australian Centre for Contemporary Art, and the Malthouse Theatre (a contemporary performing arts space also call Southbank home), are reflecting the area's rich cultural scene.
A focal point in Southbank is also the Crown Entertainment Complex. This large casino and entertainment precinct includes a wide range of dining and shopping options, live shows, cinemas, and even luxury accommodation, making it a popular destination for tourists and locals alike.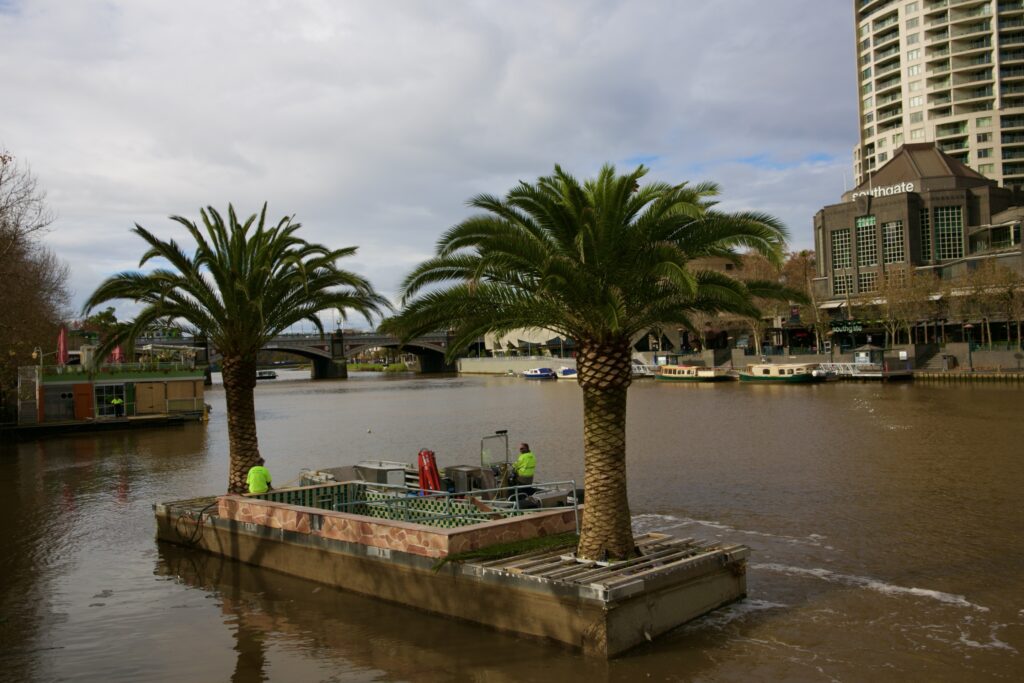 ◊ SEA LIFE Melbourne Aquarium
Located on Kings Way, opposite the Crown Entertainment Centre, along the Yarra River, this complex showcases Australian marine wildlife through a multitude of aquariums, including large ones housing sharks and rays. Get up also close to playful penguins, camouflaging carpet sharks, beautiful seahorses, and thousands of tropical fish.
Take note - Travel on all trams is free in Melbourne's Central Business District and Docklands. To use public transport outside of the free tram zone, you need to purchase a myki card. You can purchase a myki card from retail outlets displaying the myki sign, visitor centres and at train stations. The City Circle Tram service (route 35), provides a free and convenient way to get around central Melbourne.
◊ Old Melbourne Gaol
Located on Russell Street, Old Melbourne Gaol is one of the the oldest surviving prison in Australia. It was built in 1845 and operated as a prison until 1924. The gaol is now a museum that tells the story of the convicts who were imprisoned there. It is open every day from 9:30 AM to 4:30 PM and admission is charged. Among the highlights are the stories of Australia's most notorious outlaws like Ned Kelly, a famous Australian thief who managed to elude the police for a long time in the early 20th century. The gaol was used as a filming location for the 1979 film "The Last Days of Man on Earth."
◊ Queen Victoria Market
Located at the corner of Elizabeth and Victoria Streets, this market was established in 1878 and named after Queen Victoria. It is today one of the most popular tourist destinations in Melbourne. This vibrant and colorful market offers, every day except Monday and Wednesday, fruits and vegetables, fresh produce, handicrafts, clothing, second-hand items, and souvenirs, often accompanied by the music of local performers or musicians.
◊ Chinatown
Located on Little Bourke Street, Chinatown is one of the oldest and largest Chinatowns in Australia. It was founded in 1850 by Chinese immigrants who came to Melbourne during the gold rush.
This vibrant and colorful neighborhood is home to a variety of Asian restaurants, grocery stores, and craft shops.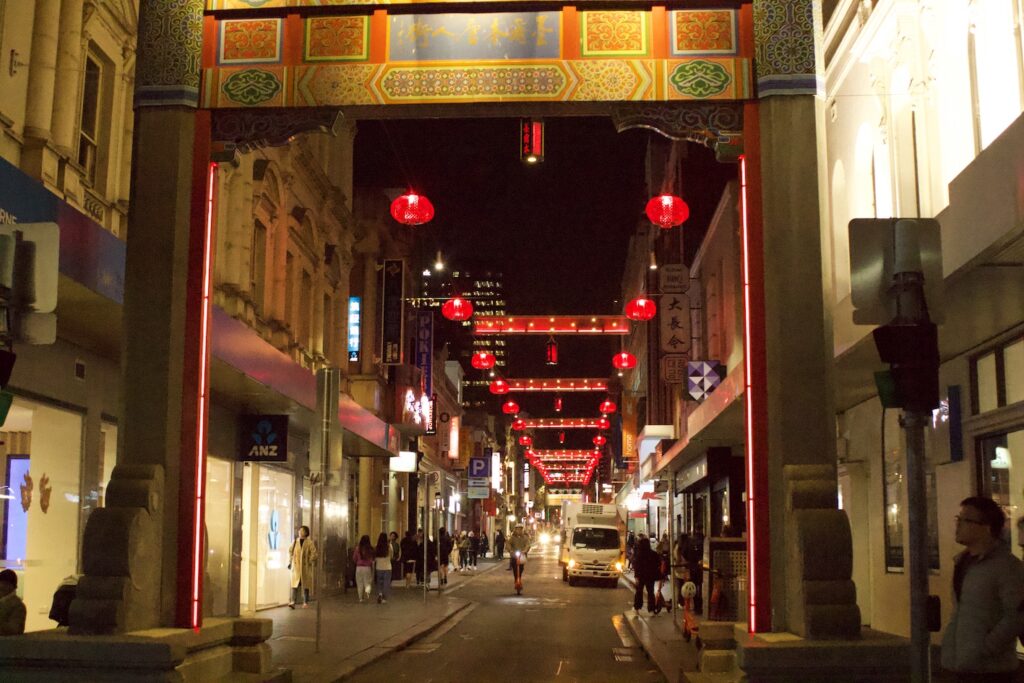 ◊ Royal Botanic Gardens
Located on Birdwood Avenue, South Yarra. Open every day, this is one of the largest and most beautiful parks in Melbourne with its 38 hectares of English-style gardens, lakes, lawns, and trees lining the Yarra River and Saint Kilda Road.
◊ National Gallery of Victoria
Located at 180 Saint Kilda Road. Directly across from the Royal Botanic Gardens. Open every day from 10:00 AM to 5:00 PM. Free entry to the permanent collection.
The gallery houses stunning collections of Australian art and permanent exhibits of contemporary Aboriginal artists. The European gallery contains a collection of paintings, prints, drawings, and objets d'art.
Near the gallery, on the banks of the Yarra River, the Victorian Arts Centre is a building dedicated to culture and performances with its theaters, concert hall, galleries, and Performing Arts Museum.
◊ Melbourne River Cruises
Melbourne River Cruises offers boat tours on the Yarra River, one of Melbourne's top tourist attractions. Tours range from 30 minutes to 2 hours and offer stunning views of the city's landmarks, such as the Princes Bridge, the Queen Victoria Market, and the State Library of Victoria.
The Yarra River derives its name from the Aboriginal word Yarra Yarra, which means "waterfall" or "flow." Today, the river majestically runs along the city and many parks. It's an ideal spot for a walk along its banks or a boat ride.
> The Melbourne Cup
This horse race is a true national event. During the Melbourne Cup, the entire country is in suspense for the results and bets are plentiful. For a few minutes, Australians stop working and gather in pubs or other public places, in front of a radio or television, even in the remotest parts of the Outback. The race takes place every year, on the first Tuesday of November. It's the climax of the Spring Racing Festival which lasts a week.
> Inner Suburbs
Melbourne's neighborhoods are diverse and vibrant. Carlton, to the north, is populated by many Italians, while Richmond is a favorite spot for Greeks. In fact, Melbourne is considered one of the cities with the largest number of Greeks worldwide.
◊ South Yarra and Toorak
These are the most upscale neighborhoods in Melbourne. Beautiful modern homes with pools and gardens line lovely streets where trees and green spaces are widely present. The districts are traversed by the very commercial Toorak Road with its stylish stores. But the main commercial area is between Punt Road and Chapel Street, with numerous boutiques, trendy pubs, and restaurants.
◊ Melbourne Royal Zoo
Located at Elliott Avenue, Parkville, this large zoo is the oldest in Australia. It can be visited through paths lined with mimosa and eucalyptus trees. Australian animals and those from other parts of the world are housed in large spaces. Kangaroos and koalas are, of course, present, as are numerous birds from the continent in large aviaries. A nice family experience!
◊ The Beaches
Melbourne has some pretty beaches at Saint Kilda, Elwood, Brighton, and Sandrigham, which are pleasant to visit, especially in the summer, from December to March.
Located on the coast of Port Phillip Bay, Saint Kilda is a popular tourist destination, known for its beaches, shops, restaurants, and nightlife. The marina is under new development and will be a new highlight. Acland Street is known for its European cake shops, cafes, and shopping. Luna Park is also a famous historic amusement park of Saint Kilda. It opened in 1912 and features many heritage-listed attractions, including the Great Scenic Railway roller coaster.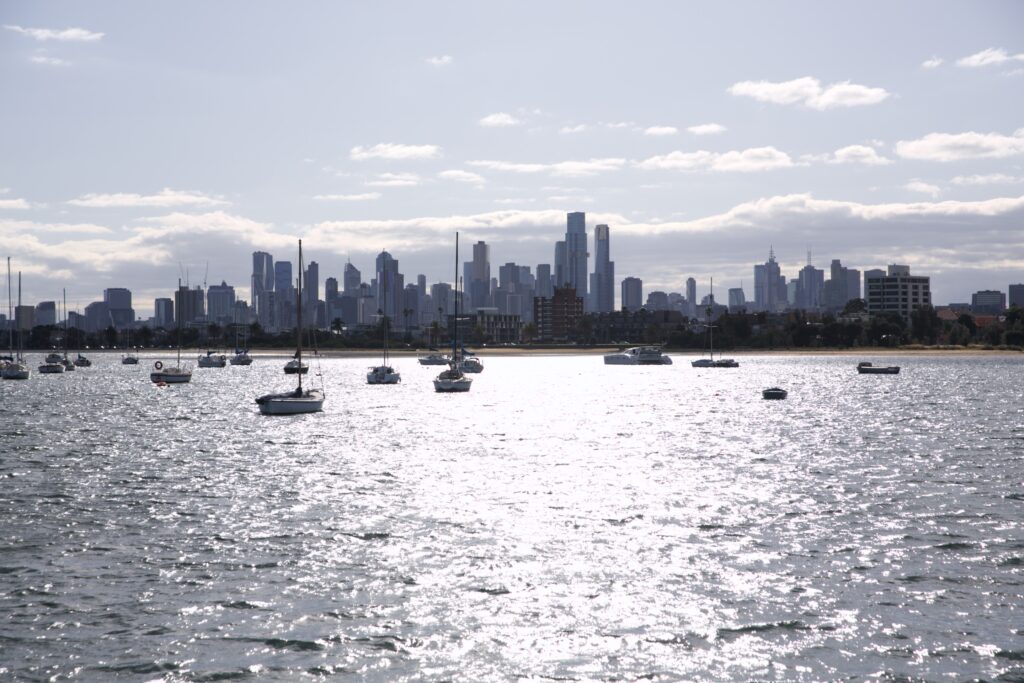 Surroundings of Melbourne
> Dandenong Ranges
About an hour's drive, about 40 kilometers, east of Melbourne, this is a region of wooded hills, covered with eucalyptus as well as beautiful tree ferns. The villages are picturesque with numerous gardens and stunning views. The range is home to a variety of wildlife, including koalas, wombats, and possums. The Dandenong Ranges are also home to a number of historical sites, including the Mount Dandenong Botanic Gardens and the Puffing Billy Railway. It's a popular tourist destination offering a variety of activities, including hiking, biking, camping, and fishing. The range is also home to a number of wineries, restaurants, and shops. It's a great place to visit all year round, however, the best time is during the spring (September to November) or fall (March to May) when the weather is mild and the flowers are in bloom.
> Yarra Valley
Near the Dandenong Ranges, the Yarra Valley is about an hour's drive eat of Melbourne. Pioneers began planting vineyards in this part of Victoria from the second half of the 19th century and today is recognized for its wines, which are among the best in Australia. Over 150 wineries produce a wide variety of them, including chardonnay, pinot noir, shiraz, and cabernet sauvignon. It is possible to taste them but also to have lunch in a pleasant setting.
> Healesville Sanctuary
In the Yarra Valley and approximately 65 km northeast of Melbourne, this wildlife sanctuary is located on Badger Creek Road, Healesville. Open every day from 9:00 AM to 5:00 PM. The park houses over 200 species of Australian animals, including koalas, wombats, kangaroos, dingoes, platypus and echidnas. It's an opportunity to get relatively close to them in an area nicely covered with eucalyptus and bushland.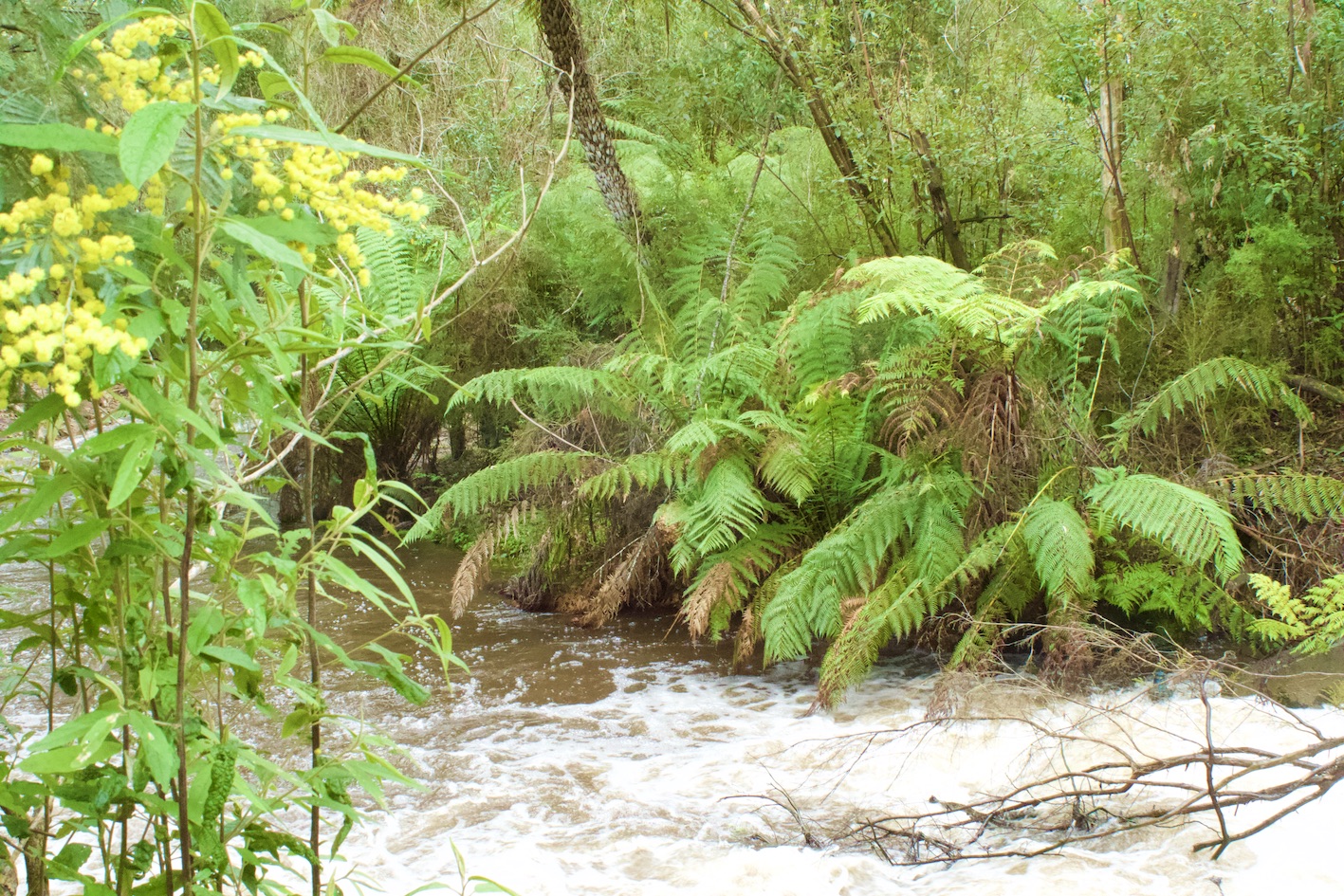 > Port Philip Bay ant the Mornington Peninsula
A magnificent natural harbor, this bay with calm waters is the origin of Melbourne. Boats could - and still can! - shelter there peacefully even in case of a storm on the ocean. The tour of the bay can be done by car from Melbourne via the Nepean Highway, the ferry that leads from Sorrento resort to Queenscliff, and finally via the Princes Highway.
The Mornington Peninsula is known for its beautiful beaches, wineries (it's home to a number of award-winning wineries, including Yarra Yering, Montalto, and Pinnacle Estate), and national parks (Point Nepean National Park, French Island National Park, and Mornington Peninsula National Park). There is a number of hiking and biking trails, including the Arthurs Seat Summit Track and the Peninsula Trail. The region is also home to historic towns like Mornington, Portsea, and Sorrento.
◊ Sorrento
Located 90 km south of Melbourne and at the extreme tip of the Mornington Peninsula, Sorrento is undoubtedly the trendiest seaside resort on the Mornington Peninsula. The town has some nice beaches that overlook Port Phillip Bay or the Ocean. The atmosphere is relaxed, even trendy in some pubs and nightclubs. Some beautiful 19th-century buildings also give it a certain charm. A regular ferry connects Sorrento to Queenscliff resort, just opposite. Boats also offer the chance to see the dolphins that regularly come near the coast.